Back
BLOG: Here's why our kids need more time to play
---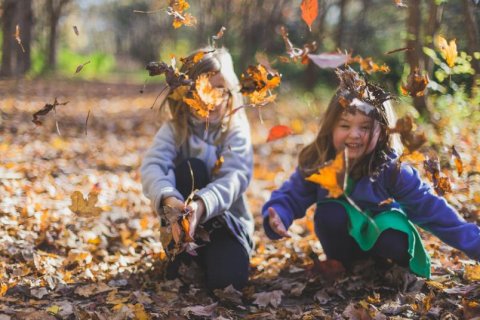 On a visit to the small Texas town of Amarillo last year, I attended the World Championship Ranch Rodeo - a global gathering of the nation's best working ranch cowboys, and as I strolled through the sea of competitors and their families, something stood out for me when it came to the children that the ranchers had in tow: none of the kids had phones in their hands.
Instead of sitting in solitude, hunched over devices with their eyes glued to screens, I saw clusters of children huddled together on the floor, playing with horse figurines and toy trucks. I watched on as they trotted and teetered their trinkets along surfaces, completely immersed in imaginative play while their parents chatted nearby.
This not only reminded me of my own childhood, when kids were left to their own devices, but it really emphasized the abundance of free, unsupervised and extremely essential play time that I enjoyed in my younger years - time that is rarely enjoyed by kids today.
With the pressure to increase academic offerings, many schools have cut back on allocated time for outdoor play in favour of more time in the classroom. Not only does this reduce the amount of exercise that the children receive, but the cost of cutting these periods of free play extends far beyond the need to keep kids moving throughout the day.
In a special edition of TIME magazine titled The Science of Childhood, author Belinda Luscombe highlights the results of a Finnish study that focuses on the correlation between physical activity and sedentary time for school-aged kids between the ages of six and eight years old. What they found was that by increasing seated classroom time, the grades of students actually declined. They discovered that children who were less active during school time in the first grade (a year that is heavily focused on reading) received lower grades in both reading and math in second and third grade than those who were given more time to play in their earlier years in school - especially boys.
While most elementary school kids here in Canada receive one short recess break per day, a program called the LiiNK Project (Let's Inspire Innovation 'N Kids) devised by Debbie Rhea of the Texas Christian University, encourages more frequent bursts of outdoor play, with the youngest children in some Texas schools being sent out for recess four times a day.
What they found was that allowing for more frequent breaks resulted in more focused classroom time, as the children knew that a short break was coming soon.
Just outside of Edmonton, Bruderheim School has decided to give extended recess time a try too, increasing the play time to ensure that their students never spend more than an hour in their desks at a time. The experiment began just over two months ago, and the school is already seeing more focused students, happier teachers, and improved attendance as a result.
Free play develops important life skills in children such as creativity and teamwork, and by providing them with activity breaks, we can boost their focus and improve their grades.
It's time to take the reins and steer our children back to a lifestyle where free play was valued. It will not only keep them healthy and active, but it will extend their life learnings far beyond the classroom walls.
Bianca Bujan is a mom of three, writer, editor and marketing consultant. Find her online at @bitsofbee.
By: Burnaby Now
GuidedBy is a community builder and part of the Glacier Media news network. This article originally appeared on a Glacier Media publication.
Guided By
Location
Topics