Back
Profiles of Excellence: Harjit Sandhu at IG Wealth Management
---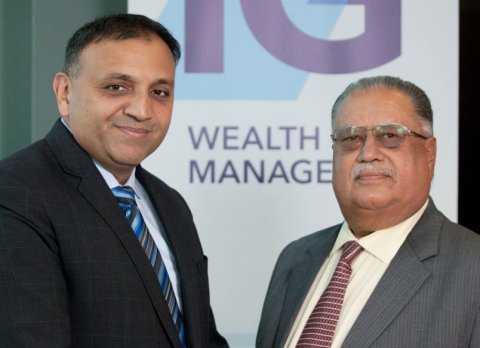 Sponsored Content
There's no such thing as one-size-fits-all when it comes to money – yet all too often, financial advice can feel impersonal and unresponsive to unique circumstances or goals.
For Harjit Sandhu with IG Wealth Management, the client – and their individual needs – always takes priority.
"Every single client is different, every single client needs solutions specific to their life," he said. "You have to listen, you have to hear what people need, where they're going. And that's what I enjoy: this work is about people, about relationships, ultimately. And at the end of the day I'm making a meaningful impact on someone's life. That's a great feeling."
Sandhu notes that IG Wealth Management – formerly known as Investors Group – has created a reputation for itself because of that personal focus, and their focus on individual needs.
"We do much more than investments, and that's part of changing our name – to emphasize that spectrum of services," he said.
For example, clients may be nearing retirement and have questions related to that transition; others may need debt restructuring or suggestions around saving for a child's education; still others may be focused on estate planning, tax issues, or a mix of many different pieces of their unique puzzle.
Whatever the goals, and wherever the starting point, there's room for everyone to have guidance.
"To be honest, a lot of this is not taught in schools or by parents the way it might have been in another time," he said. "Some clients may not have experience with preparing or maintaining a budget. Someone else may have been in save mode their whole life and now they're retired and need suggestions about what to do with those savings."
Most of his clients come to him through referrals, which is gratifying.
"If someone is recommending you to a friend or family member, then you know you've done a good job for that client," he said. "We work very hard to be responsive to our clients – to not just give good advice and to hear them and be part of their success, but to be available to them. I'm based in Burnaby but we have a number of offices throughout the Greater Vancouver Area where I can meet someone," he said.
Ultimately, though, what makes Sandhu and IG Wealth Management stand out is the fact that the focus is always on excellence.
"We do what we say we will do, always, and we do more than our clients are expecting. That's our promise and we hold to that promise," he said.
The company, which first opened in 1926, has 100 offices nationally with its headquarters based in Winnipeg and is part of the Power Financial Group of companies, which includes Great West Life Co., Canada Life, Freedom 55, Mackenzie Financial and Putnam Investments. Sandhu notes that IG Wealth Management has a strong commitment to the communities it serves, including being donors or supporters for local-level organizations, such as South Burnaby Neighbourhood House and the Burnaby Rotary Club.
Sandhu's work in financial planning has been recognized over the years within IG Wealth Management with a variety of awards.
For more information, please visit their website.
By: Burnaby Now
GuidedBy is a community builder and part of the Glacier Media news network. This article originally appeared on a Glacier Media publication.
Guided By
Location
Topics