Back
A 'financial spa' has opened in Vancouver
---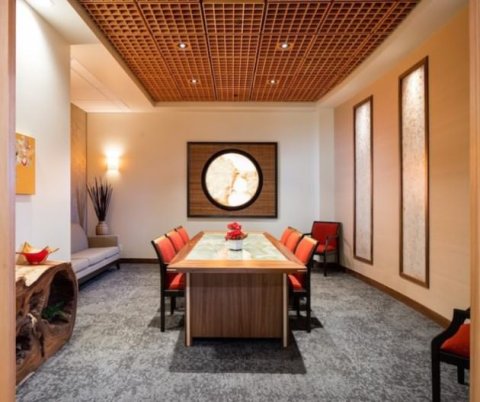 One thing is for sure, a new financial institution in Kerrisdale is not your grandmother's bank.
To find out more about this new take on a legacy business, the Courier had some questions for Chris Catliff, president and CEO of BlueShore Financial. The Kerrisdale branch is located at 2326 West 41st Ave.
Q: The property is referred to as a "Financial Spa branch." What does that mean exactly?
A: Our Financial Spa branches are unlike any other financial institutions. They are thoughtfully designed to create an environment that calms and relaxes, yet sets the stage for a productive and engaging financial discussion. When clients step into our branches, it feels like a spa with elegant design, including bamboo and the use of local rocks and wood, as well as calm Zen-like music playing throughout. All the design elements work in harmony and are inspired by our west coast lifestyle. Our premium branches reflect the premium service and depth of financial knowledge that we offer our clients."
Q: At a time when many banks are closing, what made BlueShore Financial decide to open up a bricks and mortar building?
A: As we are a boutique financial institution, we have branches in select areas. We open our branches in areas where we see a definite need for our services. Vancouverites want an innovative in-branch banking experience. One in four bank consumers continue to visit their local branch more than once a month, with younger millennials and boomers going more than once a month. The financial branch remains a key touch point for everyday Canadians and their financial planning needs.
Clients now manage their banking transactions online (i.e. cheque deposit), yet the need for financial advice is growing — for example planning for a secure retirement is more complex. Our branches are designed to accommodate one-on-one and multi-generational family meetings with our advisors.
Q: How does that fit into how people are doing their banking these days?
A: According to a recent report by the Financial Brand, a digital publication focused on marketing and strategy issues affecting retail banks and credit unions, more than half of consumers start their journey online and most of them end up finishing the process in a branch.
Q: Why Kerrisdale?
A: Kerrisdale has one of the highest number of branches in Canada, but our research indicated that there is demand for our specialized services. Blueshore Financial is known for our deep financial expertise. The Kerrisdale neighbourhood is one of the most affluent in Canada. High net-worth individuals have more complex financial planning needs and we provide the expertise they need.
Our clients benefit from working with a full-service advisory team that really understands their financial and lifestyle goals, whether they're raising a family, building a business, helping their kids into a condo or planning for retirement.
- Sandra Thomas, Vancouver Courier
By: Kamloops Matters
GuidedBy is a community builder and part of the Glacier Media news network. This article originally appeared on a Glacier Media publication.