Back
This virtual platform connects pet owners with veterinarians
---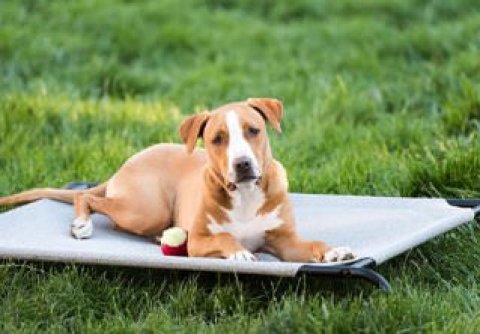 If you are worried about the health of your pet during the COVID-19 pandemic, you are not alone.
Whether you are too ill to bring your dog to the vet, or simply don't want to risk visiting the vet, a new veterinary telemedicine platform will allow you to connect with veterinarians without ever having to leave your home.
Launched March 26, GoFetch Health is a Canada-wide service that connects pet owners with veterinarians to help identify, assess, and treat pets through virtual care.
Free until June 1, the company says the app will do the following:
Give pet parents 24/7 access to vets and vet nurses who can help answer questions, assess behavioural changes, give advice, and identify whether a pet's condition is urgent
Provide vets with a safe platform to connect with their patients to offer virtual consults via video conference to provide support for new or ongoing medical issues, managing treatment plans, prescription refills, etc.
"The veterinary profession is essential to ensuring pet health," says Dr. Adam Little, chief medical officer and co-founder of GoFetch Health.
"Like many small businesses, local practices are having to adapt to new ways to serve their clients and patients. By making our service free and enabling more veterinary clinics to participate, we hope that every pet owner can access a veterinarian when needed and veterinary practices can continue to serve their clients."
Pet owners may connect with veterinarians in two ways:
a live veterinary chat function in which veterinarians and veterinary technicians offer general support, advice, and triage to all pet owners.
a one-on-one paid virtual video consults with your pet's primary veterinarian, providing pet owners with more in-depth support, treatment options, and ensuring continuity of care.
Veterinarians can set up virtual consultations within 24 hours which enables them to continue to provide care to their clients, in place of in-person clinic visits in the wake of social distancing and COVID-19. From here, veterinarians set their own schedules and prices to best serve their clients.
"The changes we've seen over the past few weeks have made it increasingly difficult for pet owners to feel confident that their pets will receive the care they may need in the near future," says Dr. Karley Seagrist co-owner of Yaletown Pet Hospital. "We're so happy to see a platform that's open to everyone that can help connect pet parents with veterinarians and build that confidence back up."
Worried that Fido might get sick with COVID-19?
While you'll still want to keep yourself and your pet safe and healthy, there's currently no evidence to support that domestic animals, such as cats and dogs, can get become sick with this new coronavirus. During this pandemic, however, many Canadians will find themselves at home with their furry best pal. If you have at least one canine or feline family member of your home, there are a few things to keep in mind.
For more information about how to keep your pet safe during COVID-19 visit here.
By: Vancouver Is Awesome
GuidedBy is a community builder and part of the Glacier Media news network. This article originally appeared on a Glacier Media publication.
Guided By
Location
Topics