Back
New study finds Canadians seek out arts to relieve stress and anxiety
---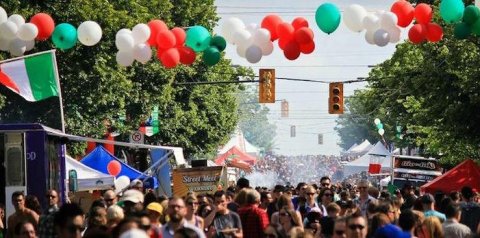 A new study reveals that 71 per cent of Canadians participate in cultural experiences to reduce anxiety and stress.
"Culture is a place that people want to make them feel better," says Arthur Cohen, CEO of consulting company LaPlaca Cohen, and millennials are the most culturally active generation – participating in three cultural activities on average each month.
Cohen says millennials are really looking for a social, interactive experience. "The idea of the cultural outing is first and foremost social. When people say they want something fun they want something that gives them that opportunity to have that connection with others."
The Business/ Arts Culture Track: Canada study results are based on an online survey of 6,444 culture-goers across the country that had participated in at least one cultural activity in the past 12 months. Parks, community festivals or food and drink experiences were more popular activities than traditional types of culture such as museums or operas.
The most often cited reasons for participating in culture were to foster a sense of community, build empathy for others by connecting with people who are alike and different from ourselves and exposure to new perspectives, ideas and ways of thinking about the world.
The study reveals that more millennials donate to charities than any other generational cohort with a focus on human rights and equality while donating to culture is relatively low on their list of priorities.
About 20 per cent of millennial donors give to human rights-focused charities compared to 12 per cent of older generations. For causes relating to equality, the gap is wider with 15 per cent of millennial donors contributing compared to six per cent of older generations. Only five per cent of survey respondents say they donated to culture.
More Canadians, 47 per cent, donate to causes in comparison to 35 per cent of Americans.
The study found that 40 per cent of Canadians prefer an analogue experience to a digital one when it comes to cultural activities. People are more interested in digital experiences in history museums (49 per cent), art galleries (33 per cent) and the classical performing arts (14 per cent).
"This is the first market research work on the Canadian cultural consumer in more than two decades and we are incredibly proud to help champion this highly relevant study," says Nichole Anderson Bergeron, president & CEO, Business / Arts. "The study's findings offer an evolving definition of what culture means for Canadians and will act as a powerful resource for today's arts, business and government organizations."
The Culture Track: Canada survey was fielded by LaPlaca Cohen and Nanos Research from December 21, 2017 to January 11, 2018.
– Melissa Shaw, Vancouver is Awesome
By: Kamloops Matters
GuidedBy is a community builder and part of the Glacier Media news network. This article originally appeared on a Glacier Media publication.