Back
Dance brings rhythm to Coquitlam residents
---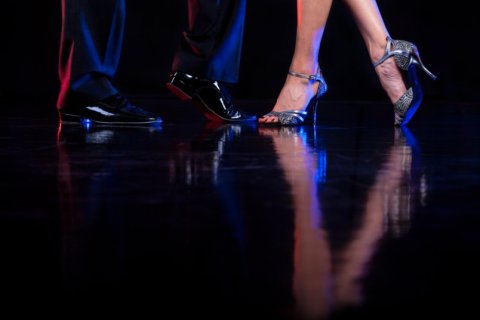 Sponsored Content
Brent Smith and Barbara Ferchuk's dance journey began just out of high school when they enrolled as students at the Arthur Murray dance studio in Saskatoon, Saskatchewan and never looked back. A subsequent move to Vancouver brought opportunities for performing, competing and teaching at the renowned Arthur Murray Dance Studio there. They became devotees of the teaching system that has been in constant development since 1912, after seeing what it could do for people.
"We were with the Vancouver Studio for many years before we decided to open in Coquitlam [in 2004]. There was a need in this area to have something like what we do," says Ferchuk over the phone from the studio on Lougheed Highway.
Since then, their location has grown to a roster of about 200 students. "We started from a point with zero students and we've grown into such a great community of dancers" she continues.
Reflecting the passion for teaching the partnership dances exhibited throughout the Arthur Murray organization, the Coquitlam location offers classes that fall under the Rhythm and Latin dance umbrella (everything from Bachata to Swing and Jive to Salsa), and under the Smooth and Standard umbrella (think the Fox Trot, Quick Step, Tango and Waltz).
The instructors apply a teaching method unique to Arthur Murray Studios. "We all teach as a team. All the lessons are designed in an integrated way and it's customizable for each student depending on the skill level and focus," explains Smith.
This flexibility allows for people to come to the studio to either learn as a single or with a partner they want to learn to dance with.
In addition to the regular roster of lessons, there are numerous opportunities for dancers of all skill levels to showcase their moves throughout the year.
"We have a series of recitals for our students to attend, either to participate, or just to watch. We always have two main gala events during the year. We also have graduations, performances, events, theme parties in studio and dinner/dances. We take a team to at least one competition outside of the studio each year."
It's a year full of dancing opportunities. On March 10, Coquitlam students will have the chance to perform alongside dancers from Arthur Murray's Vancouver and White Rock locations in the studio's Showcase recital for 2018.
Aside from being a safe space in which to learn new skills, make new friends and get a really great workout, Arthur Murray Coquitlam also provides opportunities for couples to reconnect. Says Smith: "It's a great stress reliever. Any troubles people have, they just leave them at the door."
For more information visit dancecoquitlam.ca or their Facebook page.
By: Tri-City News
GuidedBy is a community builder and part of the Glacier Media news network. This article originally appeared on a Glacier Media publication.
Guided By
Location
Topics