Back
Blues Fest 101: Here's how to make the most of Burnaby Blues + Roots Fest
---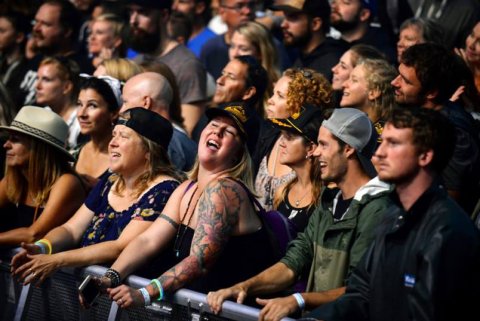 So you wanna go to blues fest? Then do it right.
If you've never been part of the fun that is the Burnaby Blues + Roots Festival – or even if you have – then consider this your Festival Attendance 101 primer to help you make the most of your day at Deer Lake Park.
PACK SMART
First and foremost: Bring the right stuff.
DO bring everything you need to enjoy the day outdoors: dress for the weather (hats, sunscreen, sunglasses, rain jackets), bring a refillable water bottle, throw in some cash for the on-site food trucks and beer and wine sales to avoid the lineups at the ATMs. Bring your lawn chairs and/or blankets, and earplugs for the kids and others with sensitive ears.
DON'T bring anything that's prohibited on site. That includes large tents, tarps or umbrellas; outside food and beverage or coolers; alcoholic beverages; Frisbees or balls; barbecues; musical instruments; or professional cameras (any camera with a removable lens).
For a complete list of the dos and don'ts of packing, see www.burnabybluesfestival.com under the Plan Your Day tab.
TRAVEL SMART
Rule number 1 of travel: Ditch the car. There is no on-site parking for the festival, so just forget about it. Bicycle there if you can, or take a taxi or public transit. Bus numbers 144 and 123 go to the area, and you can map out your own personal journey at TransLink's Trip Planner at www.translink.ca.
Plus, the great news for this year is that the festival has expanded its shuttle options. As always, there's a free shuttle from BCIT, where you can park in parking lots D, E, F and G for $5.25 per day and then shuttle back and forth to the festival grounds.
New this year is another free shuttle – this one from the Brentwood SkyTrain station. You can SkyTrain in and then make your way down to Alpha Avenue, where signs and staffers will be on hand to direct you to the shuttle. That one, too, will take riders to and from the festival grounds, running all day long.
If you do need a car for accessibility reasons, parking is available on site for those who have a SPARC permit. Accessible seating is also available – call 604-205-3000 to make arrangements.
Once you've safely arrived at the festival grounds, then you can pick up your tickets if needed (the will-call line and the box office are at the main gate on the east side of the Shadbolt Centre, open noon to 9 p.m.).
ENJOY THE FESTIVAL
Once you've staked out your spot to enjoy the music on the stage (running from 1 to 10 p.m.), don't forget there's a whole lot else happening on the festival site.
You can check out the blues workshops being led outside the Shadbolt Centre by veteran Vancouver bluesman Jack Lavin. You can take the kids to the family activity area (open from 2 to 8 p.m.) for some arts-and-crafts and playtime.
You can get a beer or wine and kick back to enjoy it anywhere on site (except the family area).
And, of course, you can sample food from any one of the host of on-site food trucks – including vegetarian, vegan, gluten-free, low-carb and sugar-free options.
Got any more questions?
The Burnaby Blues Festival website (www.burnabybluesfestival.com) has a comprehensive rundown of the entire day. Or pick up the Thursday, Aug. 8 print edition of the Burnaby NOW for a full festival section (including a centrespread trivia contest where you can try for some cool prizes).
Enjoy your day!
By: Burnaby Now
GuidedBy is a community builder and part of the Glacier Media news network. This article originally appeared on a Glacier Media publication.
Guided By
Location
Topics