Back
Global events inspire artistic evolution
---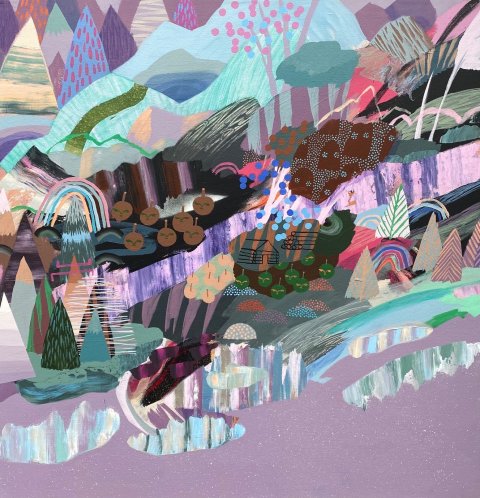 War and the pandemic have an impact on local art
By Alison Taylor
There is something about the painting Just Stop that catches the eye immediately.
It's not just the soulful, sad eyes of the majestic bear that draw you in, an almost inescapable pull. But, upon closer reflection, you see that Just Stop has more to say. The painting is a commentary of the current state of the world, specifically the war in the Ukraine.
The work is the latest piece from local artist Doria Moodie, a contemporary painter who continues to grow and evolve as evidenced by this latest work, said Wendy Wacko, who represents Moodie at Mountain Galleries at the Fairmont Chateau Whistler.
Every time she delivers new work to the gallery, it transcends what she has done in the past. Her recent work, Just Stop, got an overwhelming response from our clients and from the art community. It was an important and bold statement of the times.

Wendy Wacko
Moodie's art is typically a reflection of where she lives. Black bears and grizzlies, young children skiing.
Moodie's art is typically a reflection of where she lives. Black bears and grizzlies, young children skiing.
In Just Stop, a beautiful bear looks directly at the viewer, head just out of the rippling water. Bears are so often Moodie's subject matter but in Just Stop, the water ripples in yellow, as if a setting sun is bouncing off the surface. Above, the horizon, the sky is blue. It is, quite purposefully, the Ukrainian flag. All proceeds from Just Stop—$9,000—went to MSF Medecins Sans Frontieres (Doctors Without Borders).
The war in the Ukraine, however, isn't the only global force that is shaping the local art.
B.C. artist Meghan Hildebrand had an epiphany of sorts over the last two years as the world turned upside down with the COVID 19 pandemic. With travel restrictions in place, she was unable to explore for creative inspiration. And, without deadlines for shows and art openings, Hildebrand really had time to look within, deeply and thoughtfully, and with an eye to the future. That time and process had a positive impact on her work, even in the face of so much uncertainty around the world.
I am acutely aware of the privilege I occupy to have a studio to work in and to have been able to receive the benefits that allowed me to work unencumbered through the pandemic," says Hildebrand whose home base is Powell River on the Sunshine Coast. "The extended period without shows and deadlines allowed me to look at my work up to that point and decide how I want to move forward, how I want my work to fit into art history, and how I want to contribute as an artist to my community...In the studio I tried out lots of the ideas I've had over the years but put aside in order to create work for the market. I had new experiences, I spent time on the water, I took hundreds of photos. By the time I had a solo show last summer, my art had broken through to something new and exciting. I found a way to build up my imaginary worlds in a way that reflected my true surroundings, which really couldn't be much more magical than they already are. I came to realize everything I need for a lifetime of painting is right here."
New in the last year, Hildebrand now has work in Whistler at Adele Campbell Fine Art. Gallery owner Liz Harris is excited to represent her, particularly as she brought Hildebrand into the gallery at a time unlike any other. And while the pandemic did not slow art sales much as galleries like Adele Campbell quickly adapted and moved online, nothing quite beats seeing art in person, says Harris. It's often where you find the nuances, the feelings, the emotional response to the art, particularly art like Hildebrand's that is full of "hidden mysteries."
Hildebrand explains some of those graphic devices she uses that change perspective, the way she uses shapes like triangles to represent trees or bottle shapes to look like towers.
"I believe my biggest influence as a painter are the illustrations from the books I had as a child, carefully chosen by my mom," she explains. "If I think of one example, The Rainbow Goblins, the illustrations were painstakingly detailed oil paintings of the natural world inhabited by mythical beings. The more time you spent with the image, more hidden details would be revealed. I was really drawn to animal habitats, little doors and windows that would invite you to imagine the cozy interiors. I hope to inspire curiosity and close examination in my own paintings, have them reveal more secrets the longer and closer you look. My work is more cryptic than the children's illustrations, I like to work in non-specific symbols and shapes and break the rules of pictorial space, to create more open-ended narratives."
While these uncertain global times have fuelled the fire for creative inspiration, the pandemic in particular has changed the world for artists like Moodie and Hildebrand.
Wacko speaks to the importance of artist exhibitions, which have been sorely missed by artists and collectors alike.
"From a creative standpoint, when an artist has been invited to have an exhibition and has a strong theme, a deadline and a delivery date, it adds a layer of focus and meaning to the collection," says Wacko. "When a gallery commits a 'show date' to an artist, it is a serious step, for both the dealer and the artist. The gallery acts as the gatekeeper, helps curate the collection, and establish fair market value."
Harris agrees and hopes to present some emerging artists this summer.
"There's something so powerful about seeing an artists' work all together," she says. "There is just nothing like seeing art in person."
While the deadlines freed her creatively, Hildebrand admits she has missed the connections with potential clients and collectors.
"After the solitude of creating artwork, I really do relish the time when I get to see people take in and respond to the work," she says. "I love the conversations I have with people, when they tell me how they see the painting, how it makes them feel. Learning what they see and feel can be so surprising and delightful."This summer, take a stroll through Whistler's galleries, including Adele Campbell Fine Art and Mountain Galleries, and see the art first-hand.
By: Whistler Magazine
GuidedBy is a community builder and part of the Glacier Media news network. This article originally appeared on a Glacier Media publication.
Guided By
Location