Back
Long-term State of Mind
---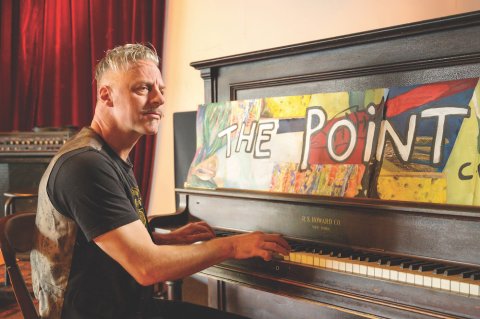 There's an age-old debate in Whistler about what, exactly, constitutes a "local."
Does it refer to the number of years spent living in these mountains? Do you have to ski a certain amount of seasons, or conquer a defined range of double blacks?
"The way I see it is, some people arrive here, whether it was 40 or 50 years ago, or last month, and the place gets its hooks into them, and they just feel at home," says Whistler author and musician Stephen Vogler, a longtime Whistler local if there ever was one.
Vogler doesn't pretend to be the authority on localism, but he really does believe the term is derived from a certain state of mind—an unspoken bond forged on a deeper level than time alone.He has a unique perspective, having moved to Whistler with his family in 1976 at just 12 years old.
More than four decades later, he's still here writing (check out his book Only in Whistler for some of the more off-beat stories from years gone by), playing gigs, and hosting local arts events at The Point Artist-Run Centre on Alta Lake.
"If we had stayed in the Lower Mainland, where would I have gone?" he says, when asked how growing up in such a unique environment shaped him.
"I do know that because there was nothing here—like, there was no pool, no rink, no community centre, barely any TV—I'd have to find things to do, and I think that's how I got into learning how to play guitar, and maybe reading a lot, because you had to keep yourself occupied."
Vogler's connection to Whistler runs deep, bound purposefully to the mountain ranges and riverbeds—and even the now-closed dive bars—by the inescapable pull of nostalgia. But that doesn't make it any more genuine than yours, he says.
"I really do believe that, yeah, it's more a state of mind. It's more just your connection to the place," he says. "It doesn't matter how many years you've lived here. That doesn't make you more or less local."
This being the 40th anniversary issue of Whistler Magazine, we thought we'd catch up with a couple more long-term locals who have helped shape the resort into what it is today.
PAT KELLY
When Pat Kelly arrived in Whistler 40 years ago, Tapley's Neighbourhood Pub had just opened its doors and the town counted about 1,500 people amongst its permanent ranks.
"The resort was really a vision to be achieved; it was a goal," he says.
As a young man in the real estate game (today Kelly is president and owner of the Whistler Real Estate Company), Kelly was privy to much of the policy-making decisions taking place in the upstart resort.
"It wasn't without its struggles over the '80s and '90s and 2000s," he says, of Whistler's eventual trajectory towards a world-class, four-season mountain resort.
"Right now if you look at Whistler you say, 'well it's a sure thing.' It wasn't back then."
It's all about perspective, Kelly says, and as a member of Whistler's prestigious 40-year club, he's earned his share of it. Making a long-term go of it in Whistler is not an easy task for anyone, he says.
"It's the path less chosen. But if you love it, you invest yourself in it, and you make something out of it; the first challenge isn't a reason to just give up and go home," he says.
While much is made of Whistler's natural beauty, and the irresistible pull it has over so many, for Kelly, it was the people who kept him fighting it out in the trenches. His involvement in real estate led to "fabulous friendships," he says, adding that he met his wife here, had his children here, invested in the community and volunteered with the fire department, chamber of commerce and various advisory committees.
"Your life becomes the experiences you have," he says. "It's a hard thing to walk away from, because in some small way you think you contributed to whatever it is we are now. So when you've got some skin in the game, whether it's financial or whether it's psychological, it makes you want to stay and be part of it.
"And being one of the most beautiful places in the world doesn't hurt either."
NANCY WILHELM-MORDEN
Nancy Wilhelm-Morden, local lawyer, former Whistler mayor and the longest-serving female elected official in Whistler's history, arrived in the resort in the summer of 1973 for a two-week holiday at 18 years old.
She had come to visit her now-husband Ted, who was working at a logging camp for the summer.
"He said he was staying for the winter to ski; I thought that sounded like a great idea, so I called my parents the day before I was supposed to come home—two days before I was supposed to go to university—and said I wasn't coming home," Wilhelm-Morden says.
The rest, as they say, is history.
Wilhelm-Morden lived the ski-bum life to the fullest in those first years in Whistler (her time living as a squatter is the stuff of local legend), but it wasn't long before she and Ted began to set down real, tangible roots in the community.
The couple purchased a lot in Alpine Meadows in 1977 for $17,000, she recalls.
"We built on it ourselves, and used recycled materials and re-used materials, because we were young and broke, and then we renovated it," she says.
The home has been renovated six times since 1980, in fact, and was even used to host the wedding of one of Wilhelm-Morden's two daughters in 2019.The plan is to pass it to one or both of the girls so it stays in the family.
Through her 17 combined years behind the council table, Wilhelm-Morden contributed much to local public life in Whistler. She lists the creation of the Whistler Housing Authority, saving the Emerald Forest and the launch of the Audain Art Museum as just a few of her proudest moments. But she always kept the Whistler locals at the heart of her decision-making, she says.
"It's always wonderful to go to a community event and see people who have been living here for as long as I have, or longer," she says, noting that Whistler has never been an easy place to make a go of it.
Even now, it's tough, she adds. Many forego bigger salaries in urban centres to live the Whistler lifestyle.
"So to see people who have been here for a long time, who have invested not just money to stay here, but their personal energies, and they're still here, and they'll be here forever [is inspiring]," she says.
Whistler, it seems, simply finds a way of getting into your soul.
By: Whistler Magazine
GuidedBy is a community builder and part of the Glacier Media news network. This article originally appeared on a Glacier Media publication.
Guided By
Location