Back
Whistler's architectural evolution
---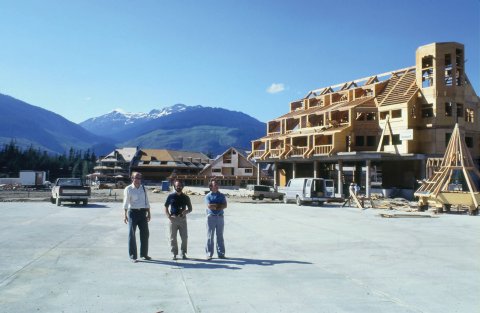 Highlighting the award-winning built environment
By Steven Threndyle
It all seems like ancient history now, but Whistler's first decade as a ski town (from 1966 to 1976) was a rowdy, messy, and ultimately unsustainable affair. There were probably more squatter's shacks than second homes on the decidedly challenging bluffs and forests around Alta Lake and the old gondola barn.
As Whistler began to come of age, so too did its architecture. In her 2014 book American Ski Resort: Architecture, Style, Experience, Wake Forest University architecture professor Margaret Supplee-Smith called Whistler "Canada's great mountain experiment."
Indeed, some of North America's most skilled architects have left an imprint here. Arthur Erickson designed the Hearthstone Lodge, while Barry Downs (with some roofline assistance from Berkley's Henrik Bull) created the Fairmont Chateau Whistler. MIT-trained John Perkins, who would later form the internationally-renowned Busby, Perkins & Will, had his hand in several Whistler Village lodges. Arthur Erickson's former partner Geoffrey Massey and West Vancouver's Bo Helliwell constructed ski cabins that battled for space with the volcanic outcrops and coastal rainforest.
Adele Weder is a contributing editor at Canadian Architect and the author of an upcoming biography on noted West Coast architect Ron Thom. Her critical take on Whistler's built environment reveals a bit of a mixed bag. "Whistler's low-rise lodges of the 1970s are exemplary of our regional architecture: organic, beautifully simple, and complementary to the surrounding nature. I'm not keen on the brash, convoluted, faux Swiss-chalet architecture built in the decades that followed. That kind of architecture makes Whistler feel like Disneyland, but Whistler should feel like its own place." Weder then points to some praiseworthy recent efforts that have catapulted Whistler into the ranks of award-winning architecture, namely the Whistler Public Library and the Audain Art Museum.
With that in mind, Whistler Magazine takes you on a stroll through the Village with an eye to its unique architecture. Here are some of the highlights along the way.
Whistler Village
To this day, there has never been a resort built anywhere else in Canada on the scale of Whistler Village. Forward-thinking California landscape architect Eldon Beck, who designed it, believed that a pedestrian village should surprise and delight, which is why it can sometimes feel like you're walking in circles, especially after the bars close. Three main plazas encourage lingering. Covered walkways make the Village functional even on a rainy day and allow for easy strolling and window-shopping. The pedestrian pathways double as view corridors so that skiers, snowboarders, hikers (or even dog-walkers) can gaze upon the mountains and the promise of adventure. Legendary Whistler resort planner Paul Mathews says that "the original Village still looks very good. The massing (that's architect-speak for how a building is perceived) of low-rise three to four-storey buildings was influenced by alpine villages such as Austria's Lech and Pete Seibert-era Vail."
Squamish Lil'wat Culture Centre
Informed by the traditional First Nations longhouse communal living space, the Squamish Lil'wat Cultural Centre was designed by Vancouver-based Waugh, Busby Architects in 2008. Alfred Waugh, a prominent and highly-acclaimed First Nations architect, would later create Formline Architecture, a professional firm that designs many award-winning public buildings for aboriginal and Indigenous communities throughout North America. The centre's mandate is twofold: as a repository for thousands of artifacts and historical documents for both the Squamish and Lil'wat First Nations, and to help educate visitors from all over the world about the two Nations' art, culture, and storytelling traditions. Extensive floor-to-ceiling windows let warm mountain light filter in and illuminate the timeless totem poles and sea-faring canoes. The building's structure relies on honey-gold cedar posts and beams, while metal latticework adds a decorative touch to the street-facing façade.
Whistler Public Library
During the heady early years of Whistler's growth in the '80s and '90s, municipal buildings and services were pretty much an afterthought since it took time to build a tax base that could support attractive and highly functional institutional buildings. One of the best examples of sustainable design principles and striking contemporary mountain architecture can be found at the Whistler Public Library. Vancouver-based Hughes Condon Marler and Associates created a bright, airy, and inviting environment that goes well beyond a library's traditional book-lending functionality. Note how the building's entrance segues into a community courtyard—a gathering place for special events. Much of the timberframe construction utilizes Western hemlock, an often undervalued and overlooked species. The library was the first LEED Gold-certified public library in Canada and honoured with the Lieutenant Governor of British Columbia Awards in Architecture 2009—a far cry from the leaky trailer that once housed Whistler's books.
Audain Art Museum
With its elevated "floating" walkway paralleling Fitzsimmons Creek, stark black metal cladding and light-filled, minimalist interior, the Audain Art Museum is Whistler's most dazzling public building. Recognizing the challenges presented by extreme weather due to climate change, the museum's main floor is elevated one storey above ground level to avoid possible flooding from nearby Fitzsimmons Creek. Designed by Vancouver-based Patkau Architects to house the private collection of Polygon Homes founder Michael Audain, this striking museum has transformed a parking lot at the edge of a floodplain into a cultural haven. Prestigious awards followed, including the Governor-General's Medal in Architecture and the Canadian Wood Council Design Award.
Lost Lake PassivHaus
The final stop on our architectural stroll is decidedly more modest. The Lost Lake PassivHaus, located at the entrance to Lost Lake Park, housed the Austrian Olympic Committee and Austria Public Broadcasting during the 2010 Winter Olympic and Paralympic Games. From the outset, the building was designed to showcase best-in-class energy efficiency. Passive House (or Passiv Haus, in German) home building technology drastically reduces energy consumption by sealing the house in an airtight building envelope. Windows, walls, vents, doorways—in short, all of the places where cold air can enter or where warm air escapes—utilize energy-saving materials. Completed in 2009, the Lost Lake PassivHaus—the first in Canada— was seen as truly revolutionary architecture. Thirteen years later, Passive House design is a feature in many new builds within the Sea to Sky corridor and across the country.
By: Whistler Magazine
GuidedBy is a community builder and part of the Glacier Media news network. This article originally appeared on a Glacier Media publication.