Back
BC AdventureSmart encourages chasing waterfalls — safely
---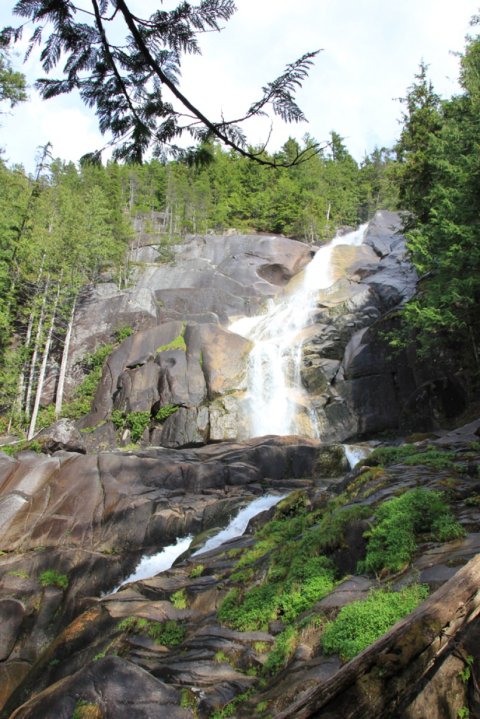 In her 15 years with the AdventureSmart program, B.C. executive director Sandra Riches said the severity of waterfall-related incidents last summer was extreme.
It's part of the reason why she's highlighting tips on how to visit a waterfall safely this season.
Here in Squamish, three people died in one incident at Shannon Falls on July 3, 2018. The official coroner investigation into the cause is ongoing.
So far this summer, Riches said there hasn't been the same high number of waterfall incidents, likely due to a combination of factors.
"We haven't had the greatest of weather this summer. Not consistently, anyway. That could be a factor this season, where last summer was quite hot and a lot of people were trying to reach water destinations, including waterfalls," she said. "It's an attractive destination, and people like to have a destination, no matter if it's a peak or a river or a waterfall or a backcountry tour."
Riches said she believes social media is another factor.
Beautiful images, shared on through personal social media or formally through tourism campaigns, can be like an invitation to a location, Riches said.
"People are quite interested in getting to those same locations and they're using that as... part of their trip plan. But what's unfortunate is that's the only trip planning they're using is that social media image. They're not actually researching it to the level that we need them to research it," she said. "When I say 'we' I mean us here at BC AdventureSmart, but I'm speaking on behalf of the 2,500 search and rescue volunteers in British Columbia who rescue 1,700 people a year — or recover some of those as well."
On the other hand, BC AdventureSmart uses those same platforms and works with tourism organizations as preventative education tools in their mission to create informed travellers and recreationalists, preferably before they leave home.
So what can you do to safely visit a waterfall?
BC AdventureSmart's go-to message is the three T's: proper trip planning, training for the activity you're doing and taking the essentials for an emergency (essentially preventing the need to call search and rescue.
"If it's specific to reach a waterfall, there's more to it than that," Riches said. "You need to know about the area you're getting to. Is it safe to be there, to recreate, to get close to the shore, to take a picture, to even go swimming or not. There's just more to it based on the hazards."
She added people often underestimate shoreline stability, coldwater immersion, the current and power of the water. Even when people aren't planning on getting into water, Riches recommends keeping extra, dry layers of clothing as well as extra food and water. If an incident happens, these additional supplies can help reduce the severity of a search and rescue call.
"They're underestimating the slippery ground, the rocks, as they're taking their selfies, as an example, on or even standing near to get close to the water."
BC AdventureSmart representatives can be found at pop-up education talks at trailheads throughout the province, including the Sea to Sky Corridor, this summer.
Of the 80 search and rescue units in B.C., Riches says five are high-call volume groups: Squamish, North Shore, Chilliwack, Central Fraser Valley and Coquitlam.
"It's easy to see why they might be the highest volume SAR groups, because they're closest to the highest density in the province, in the southwest. They need relief. That's one of my other initiatives this summer, to make sure we educated people and the AdventureSmart message in those regions."
More information and safety tips are available at www.adventuresmart.ca or on the AdventureSmart Trip Plan app.
By: North Shore News
GuidedBy is a community builder and part of the Glacier Media news network. This article originally appeared on a Glacier Media publication.