Back
Winter offers a whale of a time on Maui
---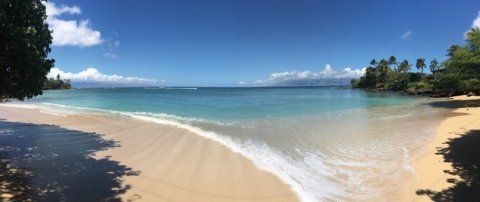 Maui is a thief, so naturally alluring that only when back home do you realize something is missing in your life.
Not forgotten sunglasses, but rather a feeling that can't be replaced until your next visit to paradise.
Senses start to stir as you take that first step into the open-air Kahului airport, embraced by a warm breeze infused with fragrant flowers.
The second largest Hawaiian island, Maui is tropical middle ground for travellers of all ages and offers activities for everyone. Besides escaping Vancouver's dreary weather, there are many reasons as crystal clear as the turquoise water surrounding Maui for why now is the perfect time to visit the "Valley Isle."
Winter on Maui is synonymous with humpback whale sightings, which is a big draw for many. Seeing the whale spouts, watching them breach and swim along the shoreline is something not to be missed, attests Leanne Pletcher, marketing director with the Maui Visitors Bureau.
With about 8,000 humpbacks cruising around the island in the winter, it's impossible not to spot the mystical creatures – even from your lanai (Hawaiian for veranda). Whale-watching tours are also popular, for those seeking an up-close encounter with these behemoths of the sea.
Wintertime on Maui may bring cooler temperatures, but it is also high season. The mercury will reach 23 degrees Celsius, making for a comfortable island experience.
Two weeks is an ideal amount of time to explore all Maui has to offer, from the summit of Haleakala – the highest point on Maui at 3,000 metres above sea level – to the unspoiled beauty found along the Road to Hana covering 103 kilometres of lush rainforests and waterfalls.
But if a week is all you've got to spare in paradise, here is some advice from Pletcher on how to make the most of your time on Maui. For starters, choose a part of the island that suits your "Hawaii lifestyle."
If it's a family trip (multi-generational), consider Kaanapali or Lahaina on the west side where there are large resorts overlooking the ocean, and with plenty of amenities.
A former retreat for the royalty of Maui, Kaanapali Beach, with its three kilometres of white sand and crystal clear water, is the crown jewel on this side of the island. Take the boardwalk or, better yet, pop off your sandals and feel the soft sand beneath your feet as you stroll toward Black Rock – a landmark lava outcropping known for its snorkelling and cliff diving.
Stop in at Whalers Village, an open-air shopping complex that features restaurants, including the much buzzed about Monkeypod Kitchen (order the mai tai), a whaling museum and free Hawaiian entertainment.
Not to be missed north of Kaanapali is Napili, home to a nice crescent bay for snorkelling and family friendly beach. There is a farmers' market on Saturdays where you can find fresh Hawaiian produce such as papayas, avocados and pineapples.
Golf lovers will want to check out the world-famous course at Kapalua, which hosts the Sentry Tournament of Champions annually in early January to kick off the PGA tour.
The open-air dining room at Kapalua's Plantation House Restaurant is an excellent choice for a scenic breakfast overlooking the greens and out to the ocean. Do order the warm banana bread there, you won't be disappointed.
For a quick and affordable meal hit up the Honolua Store, located on a historic plantation setting in Kapalua, where you can pick up a traditional Hawaiian-style plate lunch for under $8, such as the popular Loco Moco, or deli-style sandwiches to take to the beach.
A natural phenomenon on the west side of Maui is the Nakalele Blowhole where visitors hike down toward the ocean to watch a geyser shoot a column of trapped seawater 30 metres into the air. Keep your camera handy, next to the blowhole is a heart-shaped hole formed in the middle of the rocks and framing a coastal, tropical scene of mountains and seashore.
While heading south on the Honoapi'ilani Highway, a must-stop is at the historic town of Lahaina. Once the capital of the Hawaiian kingdom in the early 19th century, Lahaina has hold-over charms from its whaling village days. Visit historic sites like the old Lahaina Prison, the Pioneer Inn and Maui's oldest living banyan tree.
Stroll down lively Front Street, lined with souvenir shops, art galleries, waterfront dining and unforgettable shave ice (an elevated snow cone, made from super-fine ice infused with fruity syrups) found at Ululani's, which has outposts across the island.
Some of the best poke (fresh diced fish) on Maui is tucked away in a business park on the Lahaina hillside. Tamuras Fine Wine offers a great selection of poke bowls for a bargain ($9.99) and topped with local Kalua pork for an added Hawaiian flavour experience.
Speaking of roast pig, Lahaina is also home to the legendary Old Lahaina Luau – offering a traditional Hawaiian dinner and show under the glow of tiki torches.
Moving further south you will find the community of Kihei, boasting the sunniest weather on the island. The family friendly area is home to the sprawling Kalama Beach Park defined by shady trees and calm waters, and rich with waterfront amenities including beach volleyball courts, an inline skate park, picnic pavilions and a playground.
Surf or stand-up paddle board rentals – and lessons – are available from surf shops across the street from Kihei's Cove Park, known for its beginner surf breaks.
Kihei also has a stretch of outdoor tiki lounges, restaurants and sports bars, making the area a nightlife hot spot. There are a couple must-try, causal eateries that offer the ultimate island vibe in Kihei.
At Coconut's Fish Café patrons devour fresh ahi or ono tacos punctuated with colourful mango salsa, while kicking back at custom surfboard tables.
The best plate lunches (rice, potato-macaroni salad and meat combo) on Maui can be found at the casual Da Kitchen cafe, where they serve "island-style food made with aloha." Don't leave Maui without trying the tender, mouth-watering Kalua Pork offering from Da Kitchen.
Next door to Kihei is Wailea, where you will find Maui's more luxurious side, surrounded by designer shops, world-class golf courses, award-winning restaurants and fantastic beaches.
No trip to this part of Maui is complete without spending a good part of the day at Makena Beach State Park, one of Maui's signature and largest undeveloped beaches. The area is divided into two beaches known as Big Beach and Little Beach, the latter of which is clothing optional. One thing to note about Big Beach: the waves can be so powerful here that it's more suited for body surfers than a family with young swimmers.
A quainter island experience awaits in a pastoral setting guarded by a massive shield volcano. Golden beaches give way to rolling hills and misty mountains as you ascend into Upcountry Maui and toward the island's highest peak – Haleakala.
There are plenty of ways to explore the volcano, from taking a scenic and winding 37-kilometre bike ride down the mountain to catching the sunrise. Be forewarned, it may be Maui but it does gets cold at 3,000 metres above sea level, so bring a light jacket or hoodie to keep warm.
At the base of Haleakala is Paia, a surfer town with plenty of character where you can unleash your inner hippie. Paia is also the jumping-off point for a day-trip along the famous Road to Hana.
You will happily survive the 617 hairpin curves and 59 unforgiving one-lane bridges that lead toward the unspoiled side of Maui – and it will all be worth it. Before you go, download the GyPsy or Shaka app to hear guides talk about the history and point out hidden roadside attractions including waterfalls and bamboo forests.
While on the Road to Hana, experience homemade coconut ice cream at Coconut Glen's, the Garden of Eden Arboretum & Botanical Garden (where the opening scene of Jurassic Park was filmed), a lava tube cave and the stunning black sand beach at Waianapanapa State Park.
If you have the time while on Maui, taking the passenger ferry ride from Lahaina to the island of Lanai (US $30 one way) is an experience in itself.
Along the way, it's not uncommon to spot a pod of spinner dolphins playing in the ocean.
Once you reach Manele harbour, catch an affordable taxi ride to the main Lanai town where art galleries and cafes await, or relax on the idyllic, white-sand Hulopoe beach. Lanai is also home to a world-famous cat sanctuary.
Direct flights to Maui from Vancouver can be found for less than $500 round-trip – making now a good time to escape to paradise.
By: North Shore News
GuidedBy is a community builder and part of the Glacier Media news network. This article originally appeared on a Glacier Media publication.
Guided By
Topics