Back
'Dreams of Tahiti' cruise one for the bucket list
---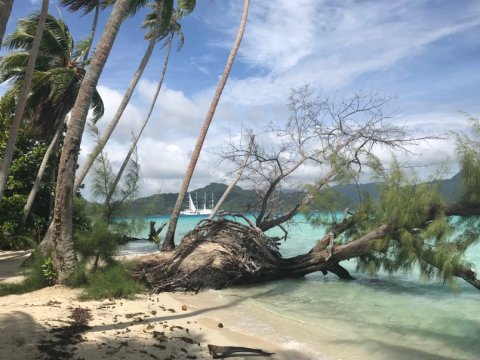 It's hard to describe all of the colours of the ocean surrounding the Society Islands, an archipelago in French Polynesia believed to have been named by Captain James Cook during his first voyage to the area in 1769.
Depending on the time of day or the depth of ocean, the water can be a pale jade in the shallows, royal blue in the deep and the most astounding turquoise green for as far as the eye can see from the top deck of the Wind Spirit, a four-masted, luxury sailing yacht I recently spent a week on.
The white sails and alabaster hull of this small cruise ship create a striking contrast against this backdrop of blues and greens creating postcard — and Instagram — worthy photos from every angle. A week on the Windstar Cruise's Wind Spirit in December was an absolute bucket list trip for me and my husband and the aptly named Dreams of Tahiti cruise allowed me to check off more than one of my travel fantasies from that internal log I'm continually adding to.
We boarded the Wind Star in Papeete, Tahiti Dec. 6 and as the sails unfurled in preparation of our official sail away, everyone gathered on deck with a drink in hand while Vangelis' "1492 Conquest of Paradise" was piped through speakers. With the sails at full mast, the music reaching its crescendo and accompanied by an extremely large tug boat to guide us out of the harbour, I can only imagine how stately the Wind Spirit looked from shore. But luckily I was one of only 140 passengers on board who was enjoying the experience from the wide-open, teak pool deck.
And it only got better. Over the course of the next seven glorious days we visited the islands of Moorea, Raiatea, Bora Bora, Huahine and Taha'a. We also spent a day on the private island/motu Mahae'a where before guests arrived by Zodiac, Wind Spirit staff had set up a tiki bar, massage tables on the beach, games, a space for yoga classes and barbecues. It was on Mahae'a where we pulled our beach loungers to the edge of the shore — creating our own infinity-inspired view of the ocean and the island of Bora Bora — and shaded by leaning coconut trees watched as more ambitious couples floated around on stand-up paddleboards or snorkelled.
We had also pre-booked a couple's massage on the beach where I was tasked with my most difficult decision of the day, "Would you like a sheet or would you prefer to feel the breeze on your skin?" (Massages are done with bathing suits in place so we weren't in any danger of flashing anyone.)
Meanwhile back on board the Wind Spirit I had, incredulously, managed to stash all of our belongings in the generous storage areas of our stateroom — and yes, I over-packed. Our cabin also included an ocean view through two portholes, a queen-sized bed, seating area, mini bar and flat-screen TV — we didn't turn the TV on once in seven days.
The ship itself includes a small casino, library, lounge, formal dining room, gift shop, a bar and breakfast and lunch buffet on the top deck, small swimming pool, hot tub and observation deck. The activities platform off the lower stern of the ship is where guests can swim, water-ski, kayak or go tubing.
We swam off the platform several times and it was an incredible feeling to be floating around in the middle of the ocean surrounded by tropical islands without another boat in sight. One of the joys of a small cruise ship is it can sail into areas larger vessels can't.
Daily excursions are another important part of life on the Wind Spirit and there are many to choose from, including scuba diving, snorkel tours, pearl farm tours, jet ski adventures and heritage tours. A highlight for me and my husband was the Faaroa River tour on the South Pacific island of Raiatea, the second largest of the Society Islands.
After climbing onto a bright red motorized catamaran, we crossed open water until we came to the mouth of the Faaroa River where we were immediately surrounded by overhanging greenery and flowers, including wild hibiscus, purau trees, bamboo groves and Tahitian chestnut trees. As we meandered our way along the narrow waterway, the only navigable river in the Society Islands, our knowledgeable guides explained the flora and fauna, which were close enough to touch.
Following the tour we once again motored across open ocean to a small motu, which, with its leaning coconut trees, white sand and isolated location looked straight out of a movie set. It was there we swam, snorkelled and enjoyed a snack of fresh fruit prepared on the beach before heading back to the Wind Spirit -- just in time for happy hour.
For some practical information and tips on traveling on a Windstar cruise, and future stories about our adventures on Bora Bora and Moorea, visit vancourier.com.
sthomas@vancourier.com
By: Vancouver Courier
GuidedBy is a community builder and part of the Glacier Media news network. This article originally appeared on a Glacier Media publication.
Guided By
Location