Back
Here are some dog friendly hikes you can take near Squamish
---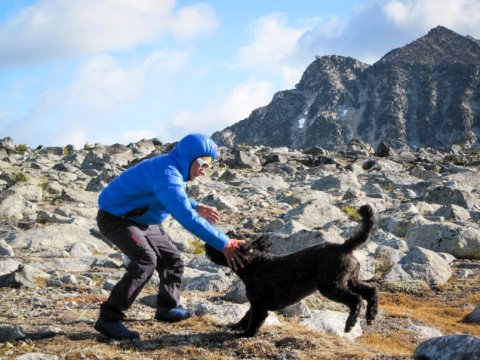 I've been on several hiking and camping trips with dogs over the years and they have never detracted from those experiences, only added to them. Dogs notice things in a way that humans can't. I find that by merely watching them and noticing what draws their interest another layer is added to my experience in wild places. They hear sounds that I can't and respond to scents that are too weak for my nose to detect. A hike with a dog can be a reminder to listen to our other senses and not focus too much on only what our eyes can see, but also on what we can smell, hear and touch.
Which is why I can completely understand the upset caused by the recent dog ban at Joffre Lakes Provincial Park. A decision I imagine was not made lightly but was made to keep the interests of the majority of visitors and wildlife that calls this location home at the forefront.
From personal experience, I understand both sides of the discussion.
At a young age I loved the TV show Lassie and one day I saw a dog like Lassie, a Rough Collie, off leash in a park. I ran over to pet it and it attacked me. I had a backpack and reflexively held it up to block the dog from biting me. It grabbed onto the pack and shook it violently. Within a few moments, my mother and the dog's owner ran over to separate the animal from me.
That experience only lasted about one minute or so but for about two decades after that incident, I had a gripping fear of all dogs. I would freeze in place around any barking pooch. Eventually, with enough positive experiences with dogs, I got over my fear.
I mention all this to say I understand the need for consideration when it comes to an incredibly popular hike like Joffre Lakes, where negative interactions between dozens of dogs, children and adults might occur.
Nevertheless, there are still many locations in the Sea to Sky Corridor where you can take your dog. A bonus is that you will inevitably avoid the crowds at Joffre Lakes and get to explore a new corner of your home that you didn't know existed. In all of these locations, your dog should be on leash, under control and well trained. Like with all adventures in the mountains you should be familiar with navigation with a map and bring essential safety items with you at all times.
Cerise Creek/Keith's Hut:
To the east of Joffre Lakes Provincial Park is Cerise Creek. A popular winter backcountry skiing location, this area is also stunning in the summer and fall as it gets hikers up close to dramatic mountains and glaciers.
About nine kilometres past the Joffre Lakes parking lot there is a pullout on the right side of the road with parking for Cerise Creek. A trail drops away from the road here before crossing a creek and ascending through forest roughly alongside Cerise Creek.
You have many options here. There is a memorial cabin called Keith's Hut where you can stop for lunch. If you are out for a simple day trip consider heading towards Vantage Col, which has spectacular views of Mount Matier and the Twin One Glacier.
Marriott Basin/Wendy Thompson Hut:
About 4kms past the parking lot for Joffre Lakes you will reach a sand-shed on your right. On your left, you will see an old road. You can either drive up this road to see how far you can get or park off to the side of Highway 99 where there is a pullout.
Depending on where you end up parking, hiking up and into Marriott Basin can take about three hours. At the far end of a lake, up on a plateau, the Wendy Thompson Hut is located. Booking with the Alpine Club of Canada is required and dogs must be kept outside.
There are options here for exploring higher to gain some views and locations to camp near the lake, should you wish to camp overnight.
Phelix Creek/Brian Waddington Hut:
This is another amazing location near Pemberton, about a 2.5-hour drive from Squamish, near Birkenhead Lake Provincial Park. At the end of Blackwater Creek-Phelix Creek forest service road you will see the start of the trailhead. Hiking time to the Brian Waddington Hut at the far end of Long Lake can take up to three hours depending on your level of fitness.
From the lake, there are choices for hiking up and into the alpine meadows and mountains that surround it, with names like Aragorn and Gandalf. An excellent option for an overnight camping trip.
Please note that there is a voluntary closure in this area from Aug.15 to Oct.15 to give Grizzly bears some space for feeding.
Tenquille Lake Recreation Site:
There are a few ways to access the Tenquille Lake recreation site. Check online for recent updates to ensure the roads are open and in good condition.
Rather than listing all of the approaches here, I highly recommend stopping by your local outdoor recreation store in and asking for a guidebook for the locations you wish to visit. For my visit, I drove Branch 12 off the Hurley River FSR. Depending on your level of fitness and where you manage to drive to, plan for a seven or more hour hike to get to the lake and back.
This lake is stunning, and there is a beautiful cabin there. Above the lake, there are some moderately difficult and easy hikes with stunning views.
Hopefully, this has given you some ideas about the places you can take your dogs between Squamish and Joffre Lakes. If your dog is on a leash and under control, you can also explore most of the Crown land around the parks that currently have pet bans in place. If you ask at your local outdoor recreation store, they will be able to find you a guidebook with maps of the extensive trail networks and routes in our neck of the woods.
If you wish to visit areas that require a 4x4 vehicle, but you don't have one, then I'd highly recommend joining a mountain club such as the Alpine Club of Canada or British Columbia Mountaineering Club, which regularly organize groups to carpool in the necessary vehicles to most of the popular hiking destinations near Squamish.
Get out there with your furry friend and experience the many mountains and alpine lakes this wild province has to offer.
By: Vancouver Courier
GuidedBy is a community builder and part of the Glacier Media news network. This article originally appeared on a Glacier Media publication.
Guided By
Topics