Back
Canada's Event Planning Star, Soha Lavin
---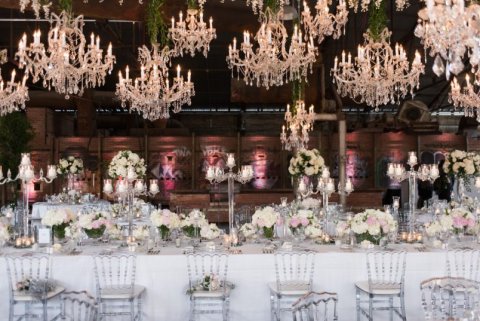 You could say that event planning is in Soha Lavin's blood. Indeed, the founder of Vancouver-based CountDown Events who, as a marketing professional saw a need to create an event planning agency 14 years ago at a time when few existed in this country, grew up in Iran surrounded by parties.
"Entertaining in Iran is a big deal. It's very normal to have 50 people over … My parents were very young (when they had me) and they were very much in their party days. So I was exposed and used to being at these big events every single evening."
Though she hasn't been back since she left at the age of 13 ("my family was smuggled across the border to Pakistan, so we left illegally," she explains), Persian culture influences her event planning approach in many ways.
"I do find that because I was interested in classical instruments when I was very young in Iran, that helps me be a chameleon when I pick and layer music (from different cultures for functions)," she says. Poetry, which is a revered art form in Iran, is also something she draws on, "whether we create a verse and put it on top of a menu, in an invitation or have it as part of a reading."
That artistic sensitivity, along with opulent and offbeat esthetic (think The Weeknd playing at a wedding media event), relentless attention to detail ("we cross-reference and triple check like crazy people and follow up on our follow up on our follow up,"), and client-centric service orientation have made her Vancouver's, and even Canada's, go-to event planner, creating unforgettable experiences for the country's elite.
Whether it's an event for Justin Trudeau, a VIP function, wedding, fundraiser or corporate shindig, Soha's approach to planning is the same. "I try and sit in front of a client and get to know what's important to that person. (I ask them), what kind of food do you like? What's your favourite movie? What do you have playing in the car right now? Next, I look at who is going to be at this event, their budget, time frame and things like that," she explains.
Soha became an event planner at a time when the profession didn't really exist. "As a marketing person I was always looking for "me." When I started doing this it wasn't on-brand or traditional to hire an event planner … I was always left with someone who was really organized and not creative or someone who was really creative and not organized."
Though you'd think Soha would need a break from entertaining in her time off, she admits she is happy to cook for her husband and five-year-old old daughter, and to host meals for her parents and extended family once a week. "Brunch is our go-to meal when we do celebrations," she explains.
When asked what inspires her, it's mostly travel (often to Maui and Whistler with her husband and daughter), and Vancouver's natural beauty. In a business where she is constantly working to meet multiple deadlines, stress is definitely a factor. That's where yoga, or her daughter, come in.
"Being with her is kind of like meditating, because she's just so naturally "present." Between the three of us—myself, my husband and my daughter—that's where I get grounded. I also like to read because I like to quiet my mind before going to sleep," she says.
Fourteen years into her business, Soha has no plans of stopping. There are a number of projects in the works for which she is mum, but she does say she is particularly excited about the first million-dollar wedding package in North America she just launched in partnership with the Fairmont Hotel Vancouver, and of course, her annual signature Crème de la Crème Grand Wedding Showcase, for which she is creative director, coming up this November.
"I still keep a pad and paper by the bed to jot down ideas in the middle of the night," says the entrepreneur. "If that ever stopped I would do something different."
By: North Shore News
GuidedBy is a community builder and part of the Glacier Media news network. This article originally appeared on a Glacier Media publication.
Guided By
Location
Topics