Back
Wedding Themes
---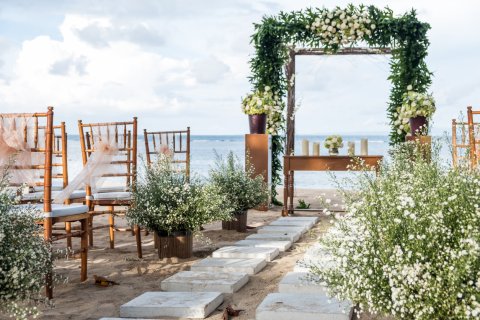 The Summer season is the perfect time to get married. The weather is nice, there are no commitments, and you can wear your best dress. But most importantly, you can plan a wedding exactly how you want it. Here are some of the best summer wedding themes on the market.
Water Wedding Themes
A water wedding can be an excellent option for the more adventurous bride. Water weddings are lavish for the more creative brides, as you can get a lot of creative freedom with them. You can have your wedding in a pool, by the river, or even on the beach. Your guests will love it.
Don't forget to invest in a waterproof wedding dress!
Fairytale Wedding Themes
Fairytale wedding themes are timeless and beautiful. You can choose from many different pieces that feature a fairy tale theme. These themes have some of the most beautiful music you will ever hear at any wedding. A fairy tale wedding is the epitome of romance and folklore.
Nature Wedding Themes
Nature-themed weddings are the ideal choice for those who love the great outdoors. Nature-themed weddings have a lot of beautiful scenery that makes for perfect wedding photos.
The music at this wedding will be very relaxing and romantic. There are many different kinds of nature-themed weddings, including those that feature beach, forest, and lake themes.
These themes make it easy to incorporate the colour green into your wedding decorations and centrepieces as green is considered a symbol of nature. You can also decorate your reception venue with potted plants or even arrange a floral archway with flowers in place of greenery to give your platform an airy feel.
Fantasy Wedding Themes
Fantasy-themed weddings are perfect for those who want to have a wedding out of this world. It will take you to another world where anything is possible. Fantasy-themed weddings are not just limited to the venue and décor, but they can also be incorporated into other aspects of your wedding, such as the food and cake. Fantasy themes are ideal for those who love magic, castles, fairies, dragons, and unicorns. You can even incorporate some of these elements into your wedding attire.
By: GuidedBy
GuidedBy is a community builder and part of the Glacier Media news network. This article originally appeared on a Glacier Media publication.