Back
Expert event planning, without the high price tag
---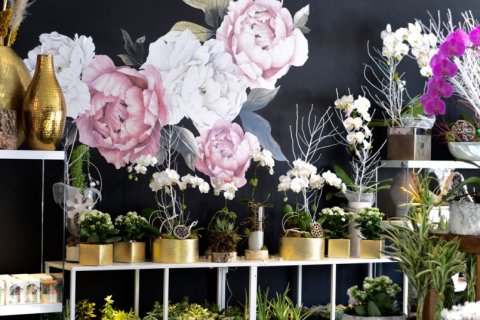 Sponsored Content
Petalino Flower Bar and Events helps you realize your vision for weddings, parties and corporate gatherings.
Event planning is daunting, whether you're a bride who knows just what you want, or a stressed-out office manager planning the annual holiday party. It seems like even the simplest event has dozens of moving parts, and most of us don't have the budget for a dedicated coordinator to manage the process.
That's where Petalino Flower Bar and Events comes in. Founder Gelareh Matheson worked in insurance before moving into flower arranging and event planning (she studied the latter at BCIT) and opening her own flower shop in Burnaby. 10 years on, her company, which has just moved to North Vancouver, will help you put together the event of your dreams, and she won't charge a cent.
How it works: let her know your budget and the kind of event you want, plus any ideas you have. She'll put together a Pinterest board that you can both contribute to, and a presentation suggesting the essentials like colours and theme, and recommending vendors including venues, photographers, caterers, bakers and more.
"It's all about helping people execute their vision," Matheson says. "Think of me as a best girlfriend who can advise and support, taking the stress off so you can enjoy the fun bits of planning your event. After 10 years in this business, I know all the best vendors to suit every taste and budget, and because I've worked closely with them, I know they can be trusted."
Matheson's business model works through referrals, which is why there's no charge for coordination providing you use her services for floristry, and you even get a discount on flowers if you book three other vendors through her.
The floristry services are second to none: flowers are fresh, everything is customized, and Matheson and her team will create sample floral arrangements while you watch, so that you can decide together exactly how everything should look. Her shop also has a coffee bar and DIY space, where she runs workshops for anyone who wants to learn how to arrange flowers. She'll even let you host your bachelorette there! She welcomes school groups and will go into schools to deliver workshops – always a success before Mother's Day.
"I love business and marketing, and also artistry," says Matheson. "The business gets applied to the creativity, and vice versa. Ultimately, I love people – I enjoy hearing their stories – and helping them put together the event of their dreams is my dream come true."
Connect with Petalino at Petalino.com, on Instagram and Facebook @petalinoflowerbar, call 604-770-1127, or visit Unit 2, 156 3rd Street West, North Vancouver.
By: North Shore News
GuidedBy is a community builder and part of the Glacier Media news network. This article originally appeared on a Glacier Media publication.
Guided By
Location
Topics