Back
This B.C. couple converts ordinary vans into epic travel vehicles
---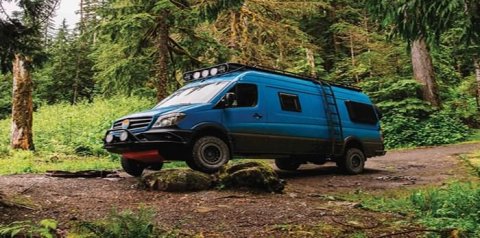 Christina Yau and John Syslak were used to getting special attention every time they crossed the Canada-U.S. border in the custom travel van they built for themselves more than 10 years ago.
Border agents almost always pulled them aside to take a closer look. It didn't, however, have anything to do with the people in the van or any fresh produce they may have been taking across the border. It's just that the border guards couldn't help themselves from taking a moment to have a look inside that sweet, sweet van. One border guard, in particular, was blown away by the custom van, which the couple called Casablanca.
"I see a lot of RVs, I see a lot of buses and things – I have never seen anything like this," Yau recalls the guard telling them.
"You guys should start a company doing this."
That one comment may not have been the exact moment that launched Nomad Vanz, but it was a big one in a series of events that set the North Vancouver couple on their current course, which now has them making some of the most coveted custom vans in the world.
It all started with the couple's decision to build Casablanca so that they could get off the grid.
"We've always been active in the outdoors and we wanted a vehicle that we could travel out of and also carry all our gear," says Yau. "We really designed the van for travelling with sports gear, from windsurfing to skiing to mountain biking and road biking. We travelled all over with it."
Everywhere they went, people raved about how cool Casablanca was. An employment change for Yau led them to take some time off and see the world. The couple carried their van passion with them, first to Australia and then Europe, purchasing smaller vans in each location to get off the grid and explore uncharted territories.
This served as a van education for them, as they took what they learned from all those excursions and brought it home to North Vancouver where Nomad Vanz was born. The basic concept is that customers buy a bare bones Mercedes Sprinter van and bring it to the folks at Nomad, who in their North Vancouver shop do a complete overhaul inside and out, tailoring the vehicle to the client's wildest desires.
"They all start as an empty box," says Yau.
"We customize everything you see. All the interior, all the electrical and mechanical, all the exterior accessories, any modifications, any suspension upgrades – we do all of that."
The company now employs approximately 10 people, who work through approximately 20 full conversions per year with several more partial conversions as well.
"We are 100 per cent custom," says Yau. "It's kind of like building your dream house. We build people's dream vans. … Our esthetics and our looks are different than other van builders in that I like modern esthetics and we like bright colours. A lot of our clients come to us because of our esthetics."
It's not just shiny objects and bright colours, though — there's also a lot of world-leading technology going into these vans. The latest showpiece for Nomad is called Yabba Dabba Doo, built on the latest Sprinter van platform and unveiled last month at the Overland Expo in Flagstaff, Arizona.
The van features a fully integrated control centre that links all systems to a Bluetooth-enabled touchpad. There's an industry-first counter-mounted freezer, a unique draw-bridge bed that maximizes space, as well as Nomad's nifty rain closet, a shower located just inside the van's side door that allows water to flow down through a rain pad in the floor.
Nomad also makes use of a commercial aluminum fuel tank which essentially doubles the vehicle's range. One tank of gas can potentially take the van more than 1,200 kilometres. That freedom to get way off the grid is what makes overlanding, as it's called, so appealing, says Yau. She and Syslak recently completed a three-day adventure tour that took them from the rim of the Grand Canyon in the deserts of Arizona up into the mountains, where they comfortably drove through sleet and whiteout snow.
"To just be in very remote areas but have everything with you – unless you experience it, you don't get it until you actually try that," says Yau.
"You've got your bed, you've got your fridge, you've got your seat, you've got your hot water and cold water and you have all your food cooked up, but you're in a remote area – that is the moment that everybody gets when they realize the freedom they have when they go in a van."
For more images and details, visit the Nomad Vanz website.
— Andy Prest, North Shore News
By: North Shore News
GuidedBy is a community builder and part of the Glacier Media news network. This article originally appeared on a Glacier Media publication.
Guided By
Location
Topics