Back
Tacomio creates authentic Mexican street food
---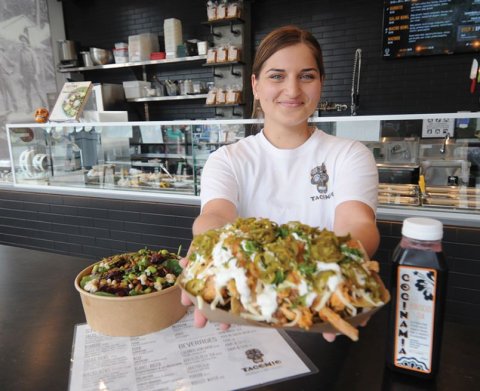 According to the edicts of the prevailing market economy, competition is a good thing. The theory is that numerous options ultimately result in consumer power and a higher standard of available products. In the food and beverage space, I would agree with this idea to a point. Smart competition is a good thing, but oversaturated competition is not.
Tacos are ubiquitous and I think Vancouver is getting dangerously close to playing out this casual favourite, if it has not already. On the North Shore, we are still a few choices shy of a market glut, but we're not that far behind. Authentic players like Taqueria or Cilantro & Jalapeno have held down the fort alone for an admirable spell. Meanwhile, every West Coast casual chain (of which there are more than enough on this side of town) offers some incarnation of the popular taco, usually with fish, either on the share plates side of the menu or, in rarer cases, as mains.
New Central Lonsdale player Tacomio carved out a niche for itself in its original Gastown location by offering high quality fare for remarkably good prices. I interviewed Tacomio's ownership a couple years back for another project and learned that their early success was partly predicated on preparing the majority of items in advance at an offsite commissary kitchen. The efficiencies and consistency of product that resulted from this approach quickly found favour with local diners and Tacomio was eventually poised for expansion.
The Gastown location has since shut down in favour of an imminent new opening in Strathcona. Meanwhile, the business bookends our city with an outlet at UBC (where the authentic Mexican street food concept resonates with dollar and nutrition starved students) and, most recently, at Lonsdale Avenue and 13th Street, a location that has been "coming soon" for the better part of a year.
I dropped in with the whole family for an early dinner this past Sunday night and was impressed with the amount of food we were able to put down for less than $60.
The Lonsdale Tacomio location offers a communal table down the centre of the colourful room and a handful of countertop style seats around the perimeter. Ordering is done at the counter and patrons follow a simple but effective process to choose their meal. First, they select a vessel for their protein: taco, burrito, salad bowl, macro bowl, or nachos. I witnessed several of these two latter options being assembled and by my conservative estimate, I'd suggest that they could easily feed two hungry adults, making them excellent value at just $12.
Next, patrons choose from a thoughtful menu of proteins, both meat-based and vegetarian/vegan, ranging from traditional carnitas (slow braised pork, prepared at Tacomio with confit sour orange) to Beyond Picadillo (ground vegetable protein from Beyond Meat with crushed tomatoes, cannellini beans, and ancho peppers).
Finally, heat levels are selected for the various accompanying sauces. I would recommend starting with mild (with ancho and jalapeno) or medium (with tomatillo and serrano) and then supplementing your heat factor via the sideboard sauce station that sits near the till. I added a healthy dose of after-market hot sauce (made with arbol peppers) to my tacos, along with a brazenly weighty portion of the complementary vegetable pickles (which packed a fierce chilli punch).
The Dagenais family tried every protein on the menu via tacos and one burrito, washing them down with fruity Mexican sodas from Jarritos, along with a tasty but entirely unnecessary side of handmade corn chips with fresh, finely chopped pico de gallo.
Tacomio dresses each taco with their recommended selection of garnishes, including, in various combinations, guacamole, pico de gallo, sour cream, cilantro, pickled onions, and hot sauce. I left this selection to the experts and didn't weigh in on the toppings at all; I was happy I did as the kitchen team clearly has put a lot of thought into what garnish works best with each taco iteration.
The carnitas proved excellent, revealing succulent morsels of pork with a nicely caramelized finish. Earthy Champinones a la Mexicana (Mexican-spiced diced mushrooms) made for an unusual taco filling but for my taste lacked enough punch on the palate. Of the plant-based tacos, the Frijolitos was my favourite, packed with caramelized onion and jalapeno flavours, although the chiles asadas with roasted bell peppers, corn, and chickpeas was certainly tasty.
Two chicken fillings are on offer here, one made with a five chili spice rub (adobo) and the other with chipotle tomato sauce (tinga). The adobo is the way to go with the chicken, the spice rub and handful of pickled red onions both adding complexity. Remarkably, a turkey taco with salsa verde proved to me my favourite of the lot. In truth, outside of holiday meals, I find turkey to be a banal protein. Tacomio breathes new life into the thanksgiving bird, preparing it almost like a slow-cooked stew and then dousing it liberally in tart tomatillo and cilantro-lifted salsa.
A single taco is $3.50, but four tacos are $11 and six $18. Four tacos makes for a substantial meal, six would be ideal for two diners. An adobo chicken burrito was enormous, jammed with Mexican rice, beans, plenty of chicken, salsa, guacamole, and sour cream.
Side dishes include chips and salsa, guacamole, rice, vegan roasted tomato soup, chicken chipotle soup with root vegetables, and pinto beans.
Tacomio, 1300 Lonsdale Avenue. Tacomio.com. 604-288-1999.
By: North Shore News
GuidedBy is a community builder and part of the Glacier Media news network. This article originally appeared on a Glacier Media publication.
Guided By
Location
Topics