Back
Vegetarian grocer Larry's Market settles into North Vancouver Shipyards
---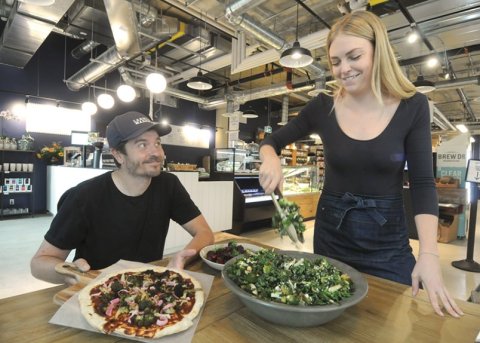 Opening Larry's Market at the North Vancouver Shipyards feels like coming home for Ryan Dennis, who spent 25 years in the grocery business before deciding to open his own store.
He's the third generation of his family to work on the North Vancouver waterfront at the foot of Lonsdale.
"My grandparents met here in 1944," says Dennis. "My grandpa was a crane operator. I pulled up his time card at the North Vancouver archives in Lynn Valley – he was making a $1.89 an hour. My grandma was a secretary here."
Dennis' dad, his maternal grandfather, two uncles and an aunt also worked at one time or another in the Shipyards.
The concept behind Larry's Market originated when Dennis and his family began leaning towards a vegetarian diet and found the search more of a chore than it should be.
Larry's Market aims to correct that imbalance operating as a full grocery store and café with special menus developed by chef Brian Skinner of The Acorn and prepared in-house by the café's holistic nutritionist chef Haley Parrent.
People who just want to eat healthier, vegans and those with special dietary requirements will all find products that fit their needs.
"I wanted to bring healthy food to a convenience format," says Dennis. "The only way we felt we could get that healthy food was through opening up a store that focuses on organic produce and healthy foods that don't include refined sugars. Basically everything in our store is organic or local."
Products in Larry's Market include produce shipped from Blue House Organics in Pemberton and a special sourdough bread made by The Modern Pantry on Old Dollarton Road. "(Kendall Gustavson) uses a 30-year-old sourdough culture that's from her mom," says Dennis. "We are the only ones that have it. We've had a great response to the product and can hardly keep her bread on the shelves."
Larry's Market launched with a soft opening a few weeks ago but the anticipation was already there before the first customer went through the door.
"It's been amazing," says Dennis. "We had a lineup waiting for us on opening day and every day since. There are 10 buildings around us and I've seen people come down in pyjamas to grab milk. You're walking out your front door and you've got a grocery store right there. We've had great support from the community and people who are vegetarian come (from far and wide) to find a store where they can purchase anything they want.
"Larry's my middle name. We wanted a name that spoke to everybody. When somebody comes in and says 'Who's Larry?' I turn around to the team and they say. 'We are all Larry!' Larry's everybody."
Larry's Market, 140-125 Victory Ship Way, North Vancouver, 604-999-0998, larrysmarket.ca.
By: North Shore News
GuidedBy is a community builder and part of the Glacier Media news network. This article originally appeared on a Glacier Media publication.
Guided By
Location