Back
Couple brings Irish flavour to Lower Lonsdale
---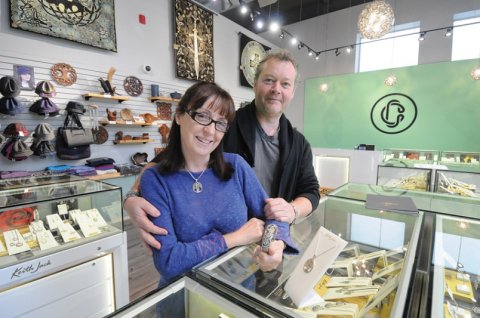 Helen Ritchie became the owner of a Celtic store in North Vancouver by accident.
After immigrating to Vancouver from Cork, Ireland, with her family in 1987, Ritchie got a job working in inventory management. But she could never leave her homeland behind.
Every year, Ritchie would return to her Irish roots to discover more Celtic treasures to bring back to Canada.
"And people would say, 'Oh, that's so beautiful – we can't get anything like that here,'" recalls Ritchie.
The inquiries for Celtic culture became so steady that Ritchie decided to set up a shop in Lonsdale Quay Market where it was a fixture for 23 years.
On Nov. 1, Celtic Creations grew new roots – this time in an old bank building at the southwest corner of Lonsdale and Esplanade. Having a front door that opens out onto the sidewalk, says Ritchie, feels like someone visiting you in your home.
Stepping inside the bright and airy boutique, decked with Celtic tapestry, is a cultural immersion in itself. Black CC letters swirled in Celtic knotwork against Irish green on an accent wall serve as an artistic focal point and branding for the store.
Ritchie and her partner Keith Jack, Celtic Creation's feature artist, wanted to capture the industrial feel of The Shipyards with the shop's esthetic, while still having a contemporary, high-end feel.
Accents that pay homage to Lower Lonsdale's history can be found in the metal light fittings and the globe chandeliers fashioned from green recycled glass.
"A lot of the stores that were more mom-and-pop Celtic Irish stores have gone out of business – so you have to have something different to survive. And that's what we've done," says Ritchie.
Celtic Creations carries nearly everything under the Irish sun: traditional flat caps, soft alpaca wool scarves ($55), Mullingar Pewter, Irish leather belts and buckles from Lee River, pure Irish wool walking socks by Connemara, and hand-painted Ogham scripts framed in real wood.
Ritchie also makes a concerted effort to incorporate Canadian Celtic wares from the East Coast, including pottery from Prince Edward Island.
However, it's the intricate jewelry with symbolism woven in that catches the eye at Celtic Creations. Displayed in glass cases are Jack's award-winning designs done in 10, 14 and 18-karat gold and silver.
Ritchie's favourite piece of jewelry is a sterling silver Celtic Tree of Life pendant embellished with 18-karat gold leaves that she wears every day.
At 17 years old, Jack started working alongside his dad who had a wholesale jewelry business in Glasgow.
That experience evolved into Jack designing jewelry on his own and carving a name for himself.
One of Jack's more unique pieces is the Reversible Unisex Locket ($440) that he has crafted to be able to stand open on a bedside table. In fact, many of Jack's collections are purely unisex.
Jack sketches the designs by hand from his scenic home studio on the Sunshine Coast, where he injects stories and history into the jewelry.
Each piece is like an heirloom with a story attached to it that lives on as the pendant, ring or brooch – among other jewelry Jack makes – is passed on from generation to generation
"Celtic jewelry for me is very much about the meaning and what it means to individuals," explains Jack.
The Tempest collection is his latest creation.
"An endless storm of possibilities swirls around you; harness this wild energy and create the future you desire," says Jack, describing The Tempest jewelry.
In the new Lonsdale space, the entire Celtic Creations operations is under one roof. While the retail side spans 1,000 square feet, attached is another 4,000 square feet that houses the bustling shipping department.
Celtic Creations, for the last two years, has won the Canadian Jewelry Supplier of the Year award from the Canadian Jewellery Group. The company has also earned accolades from the North American Celtic Trade Association.
Celtic Creations has 400 stores that they supply to – mostly on the East Coast.
One holdover from the old Lonsdale Quay shop is a Braveheart movie poster prominently featuring Mel Gibson.
Celtic Creations used to sell videos back in the day. Ritchie was gifted the Braveheart poster and it became a fixture in the shop.
"And so many people would come in and go: 'How much for the Braveheart poster?'" says Ritchie.
But she wouldn't part with a piece of her homeland, where the movie's iconic battle scenes were shot.
By: North Shore News
GuidedBy is a community builder and part of the Glacier Media news network. This article originally appeared on a Glacier Media publication.
Guided By
Location