Back
Clothing travel hacks for the savvy business traveller
---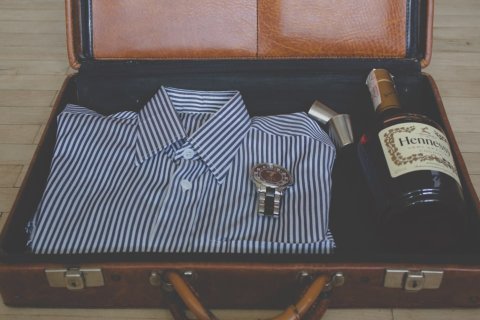 Summer is fast approaching, which means more and more people are going to be travelling. Luckily, it's not difficult to look good and feel good on your next business travel adventure. When it comes to travelling, the name of the game is comfort, preparation and minimalism.
So, what do you wear?
Light unstructured blazer
Will you be arriving at the airport in the middle of the night? Do you get cold from air conditioning easily? Regardless, you want to be prepared for cooler temperatures.
Ladies: A light unstructured blazer should be your go-to when travelling. It makes for extremely easy wear and can be styled with many other outfits throughout your trip. Throw this overtop of jeans and a T-shirt to dress it up or over your favourite structured dress to complete the look. Try a three-quarter-length sleeve for a casual yet refined look.
Gents: A light unstructured blazer is perfect for your travel wardrobe. You can easily pack it in your bag without worrying about wrinkles and taking up too much room.
Light cotton button shirt, Henley or T-shirt
Simplicity and comfort are essential for any business traveller. Whether you're wearing a dress or a button-down shirt, opt for something that is 100 per cent cotton. A 100 per cent cotton shirt is breathable, soft, flexible and comfortable, compared with a polyester or synthetic fabric that doesn't breathe very well. It's also easy to dress up a white T-shirt or Henley by throwing your blazer overtop if you need to.
Stretch is best
Ladies: Choose an elastic-waistband trouser. Plenty of trousers now have waistbands completed with an elastic stretching across the back of the pant. This allows for extreme comfort while looking professional as the front of the pant is still structured. These pants will allow you to tuck your blouse or T-shirt for a polished look, and your blazer will hide the elastic in the back.
Gents: Opt for stretchy chinos or trousers. You'll be sitting for hours so you definitely want to wear something comfortable. The last thing you want are pants that are restrictive and tight for those long-haul flights.
Slip on, slip off
Ladies: You won't regret packing mules. Running through the airport in heels is never fun. Instead, go for a slip-on mule. This can be a great opportunity to add a pop of colour or statement to your outfit, and they are extremely easy to change out of if you want to switch to heels when you land.
Gents: Loafers are a travelling man's best friend. They slip on and off quickly and easily. They are comfortable and will get you through airport security in no time. These are shoes that you won't mind sitting in for long hours. If you do get tired of wearing them, you can slip them right off. Just make sure whoever you're sitting with doesn't mind.
Suits and scarves
Ladies: Use a blanket scarf for layering. More often than not, the plane is over-air-conditioned and you are flying between two different locations with two completely different climates, so layering is the business traveller's best friend. A blanket scarf is an intelligent addition to your travel outfit as it can work as a statement piece to your look and provides comfort as a blanket on the flight. An extra bonus with layering is that you'll have much more room in your carry-on for other clothing options.
Gents: If you've got meetings right after you arrive at your destination and you need to rock a suit, opt for a stretch fabric with a spandex blend or a lightweight wool that will keep you from overheating.
We can't reiterate enough that comfort is key. Don't wear anything new for the first time, as it will likely be stiffer than you would like it to be. Whatever pieces you choose, be sure you will feel comfortable in them.
— By Brooke Williamson, Shawn Judge, Business in Vancouver
By: Kamloops Matters
GuidedBy is a community builder and part of the Glacier Media news network. This article originally appeared on a Glacier Media publication.