Back
10 Live Webcams for Armchair Travellers
---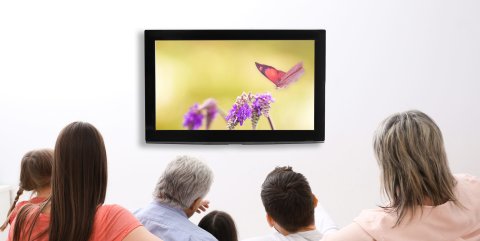 Whether you planned a vacation that was cancelled due to COVID-19 or recently returned from a location outside of Canada and are self-quarantined, there's a good chance you're spending a lot of time at home.
And with spring break plans cancelled for most families, that means there are a lot of kids hanging out at home right now, particularly if they're practising social isolation, as we've all been advised to do.
Live webcams are a great way to travel the world without leaving the comfort of your living room and these are just a few examples of what's out there.
Whether you're self-isolating or in quarantine, you can watch these Pacific Great Blue Herons build nests, raise their babies and, for some drama, fight off eagle attacks.
This camera shows off the Pacific Northwest in all her glory. Chesterman Beach is famous for its swimming and kayaking in the summer and storm watching in the winter.
This camera, established by the Hancock Wildlife Foundation, overlooks a nest located in a small grove of evergreen trees on a private portion of the White Rock bluff overlooking Boundary Bay.
Abbey Road zebra crossing, London England
Watch tourists, locals and even royals recreate the Beatle's iconic Abbey Road album cover.
Las Vegas Raiders Allegiant Stadium
Raiders fans will want to keep an eye on these four views, including a 24-hour live stream, of the stadium as it rises from the ground and nears completion.
Let your stress wash away as you watch the waves flow over the Champagne-coloured sands of Maui, Hawaii.
You absolutely never know what or who you'll spot as you spy on couples getting married at this iconic wedding chapel. When my husband and I got married there we had friends from all over the world watch our ceremony live.
The Ape Cam at the San Diego Zoo
The last time I looked, there were a couple of orange orangutans hanging out on swings and hanging off ropes, while a couple of long-armed siamang gibbons wandered around. The zoo has numerous animals you can watch, including ones for giraffes, elephants, koalas, baboons and more. I could watch this live cam all day.
Zhangjiajie Glass Bridge, China
My stomach did flips watching tourists cross this bridge, created from glass inserts. The bridge was designed to give visitors the feeling that they're flying. You can use your mouse to scroll up, down and around.
Whether you're a fan of Lord of the Rings or simply enjoy spectacular views, this live cam is for you.
sthomas@vancourier.com
@sthomas10
By: Vancouver Courier
GuidedBy is a community builder and part of the Glacier Media news network. This article originally appeared on a Glacier Media publication.
Guided By
Topics