Back
HOME IDEAS: Take gift-giving to the next level with snazzy wrapping designs
---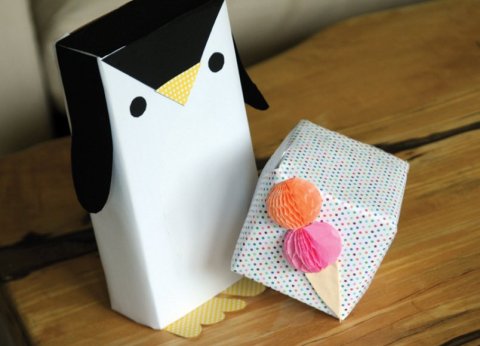 The look on a toddler's face when they are presented with a gift is a very rewarding moment.
When giving a kid's gift, it's especially rewarding when they are wowed by the gift wrap.
I like to involve the kids in wrapping their friend's gifts. It really doesn't take much time or money to come up with some pretty creative gift-wrap ideas.
Over the years I have seen some incredible creativity when it comes to wrapping gifts. Here are a couple of my favourites from over the years. They are both easy to make and the kids will have fun creating them.
Penguin
If you know someone who is very fond of penguins then this gift-wrap idea is for them. A simple tissue box will work perfectly for this idea if your gift is small. Otherwise this idea can be modified to fit any large box as long as it is rectangular in shape.
For this idea you will need craft paper in yellow, white and black. Wrap your box in the white paper first. Cut out the black beak and two eyes next from the black craft paper. Then cut out the two arms. Glue these to the box. Cut out the two yellow flippers and attach them to the bottom of the box.
Cut a white oval shape from the white craft paper and add it to the front of the penguin.
Honeycomb ice cream cones
Honeycomb paper sheets are available at select craft stores and online.
These little craft sheets are very versatile. I use them all the time for gift-wrap ideas.
This idea for a kid's present is very easy. Simply draw small circles on your honeycomb sheets using a small glass. Be sure to use the folded seam side of the honeycomb sheet when cutting out your circles – this way you can fold out the other side to complete the circle.
Wrap your gift in colourful plain or patterned wrapping paper. Glue one half-side of the cutout small circle to the top of the present and fold out the honeycomb to secure the other side. Cut out a "cone" shape from some neutral craft paper such as beige or white.
Barb Lunter is a freelance writer with a passion for home decor, entertaining and floral design. She also runs Blu Dog Staging & Redesign. You can find more information at bludogstagingandredesign.com.
By: North Shore News
GuidedBy is a community builder and part of the Glacier Media news network. This article originally appeared on a Glacier Media publication.