Back
Lonsdale specialty shops complement each other on the waterfront
---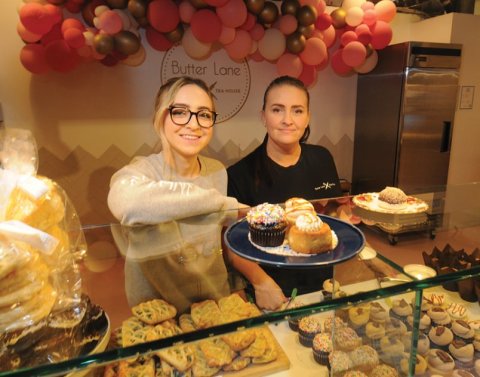 Green Leaf Brewing celebrates its fifth anniversary this week. I recall first learning of the brewery's opening and wondering, at the time, if the North Shore would be able to support the rapid growth trend of craft breweries that was materializing.
By my count, we now have six unique craft breweries on the North Shore (as well as three craft distilleries) and, as reported by the North Shore News recently, new proposed brewery developments have prompted North Vancouver city council to take a look at zoning bylaw changes that would make the addition of lounge and restaurant space within breweries easier to secure. Such changes could result in a full-on brewery "district" along East Esplanade. On any given night, each of our existing breweries seem to draw significant crowds, categorically answering my earlier question about whether or not we had a critical mass to support new beer businesses. We do.
Green Leaf has evolved considerably in its five years of operation, launching some unique session and seasonal beers alongside its core lineup, including a complex and sophisticated suite of sours. Their patio space is highly sought after, and the spirit of co-operation that permits food from third party Quay vendors to be consumed within the brewery has been well received. The brewery's evolution is consistent with Lonsdale Quay Market's own growth over that same time period, growth marked by tightly focussed, specialized offerings.
One such specialist that set up shop recently within the Quay is Kaylin & Hobbs, a cucumber pickle vendor that first broke ground within the Granville Island Market. The picklery creates some unique brines that translate into robust flavors that complement different types of cuisine. Jalapeno pickles, for instance, boast a fiery brine with rounds of chillies that impart a complex flavour to the cucumbers, making them an ideal accompaniment to the rich and delicious perogies from nearby Sharky's Chophouse. Kaylin & Hobbs co-founder Scott Kaylin is a born and raised New Yorker who felt that there was a dearth of good pickles on the West Coast. Armed with the motto "New York Taste, West Coast Vibe," Kaylin and partner Chris Hobson sought to draw on the century-and-a-quarter pickle making heritage of Manhattan's Lower East Side to develop their own recipes locally.
Pickles are brined in big white pales, just like in NYC, and doled out in various sizes for sale. The classic Kosher Dill is a spot-on replica of pickles I've encountered next to hot pastrami sandwiches at a certain famed deli situated just south of Houston Street and a couple blocks north of Delancey in Lower Manhattan, while the Sweet Reds offer a nostalgic throwback to school lunches for anyone who grew up with so-called "bread and butter" pickles in the 1970s and early 1980s.
There are nine flavours of pickles and the kiosk-style setup at the Quay enables patrons to sample them all before purchase. In addition to Kosher Dill, Jalapeno, and Sweet Reds, I took home taster-sized containers ($8.50 each) of Horseradish pickles, which were tamer than I would have anticipated, and Mustard flavour, which featured a thicker, more opaque brine and paired very well with grilled sausages (Kaylinandhobbs.com).
One thing I love about small specialty shops is that they tend to be run by passionate owners who are exceedingly knowledgeable about their industry. Such was the case with C41 Coffee, an open concept, minimalist coffee shop on the main level of the Quay Market with a small but fastidiously executed menu of coffee options. The shop's website is as lean and sparse as the business itself and reveals little by way of history or explanation for the unusual name (a film development reference?), offering instead only scant details about operating hours, a contact form, and the following mission statement: never stop chasing hi-end (sic) coffee.
Based on the three coffees I sampled from C41 (and there are only three coffee options available), I can tell you that the coffee speaks for itself. The sole barista on shift, who I gather is the owner (a hunch I could not confirm as I was already arousing suspicion with my pointed questions) was insightful about the various processes available to realize a cup of coffee and patiently walked me through his rationale for selecting certain beans for certain executions.
The Coles Notes version of this conversation, which does ill justice to what proved to be a fascinating exchange, is that every method of brewing emphasizes and relies upon different characteristics of the beans employed. The C41 pour-over (called the Gold Cup Pour Brew), drawn from a specialty machine equipped with a flat basket instead of the more common conical basket, permits even bean maceration, affording more subtle, lightly roasted beans their best expression. It proved to be a mean cup of coffee, brightly acidic and fruity, receptive to a dash of sugar but surely corrupted by milk.
As a nearly lifetime fan of espresso, I felt compelled to try the Sweet-Presso, based on a blend of beans that reveals a natural sweetness that makes it ideal for a straight shot. Many espressos tend towards the harshly acidic, putting off the contemporary palate; the Sweet-Presso mitigates this tendency with an innate sweetness that made for a mighty fine shot.
My final cup was a flat white, called here My Black and White, and married a potent espresso base with meticulously steamed, low foam milk. I paired this with an odd little graphic-stamped pastry called a half moon cake, a spongy, semi-sweet white cake with a spherical shape. The combo worked nicely and I emerged from my tasting versed in the shop's offerings and philosophy. I'm curious to see how this hyper-focussed shop is received in a consumer market rife with complicated coffee choices. C41 pours 49th Parallel, Pallet, Rooftop, and rotating guest roast coffees (C41coffee.com).
I finally got around to doing a proper sampling of Butter Lane's ornate, lovingly baked wares, discovering some of the freshest and most professionally crafted macarons I have had in recent memory. Too often macarons, which are, frankly speaking, a right pain in the neck to make, sit on bakery shelves well past their ideal consumption date and end up hardened and disappointing, especially at $2-plus for a single piece. Not so at Butter Lane; the macarons revealed a ridiculous intensity of flavour, especially the pistachio, coconut, and salted caramel versions, and were appropriately light and delicate.
An individual sized Pineapple Mini Cake was unusual, dense, syrup-soaked and surprising in its frangipani-like taste, while a Cashew Blondie was likely the best pastry of the sampling, also weighty and deeply flavoured, but with a complex toastiness that would have paired well with a Sweet-Presso from C41 had I not so fully assaulted my digestive system with multiple coffees just moments beforehand. An Earl Grey cake doughnut was fresh and fragrant, while a gluten-free Carrot Cake Muffin was lacking nothing by way of appealing texture and taste. I have written about Butter Lane's flagship Horseshoe Bay location in the past (go there for an elegant afternoon tea service and full-sized cakes) and look forward to their forthcoming counter service operation in Edgemont Village (Butterlanebakeshop.com).
By: North Shore News
GuidedBy is a community builder and part of the Glacier Media news network. This article originally appeared on a Glacier Media publication.
Guided By
Location
Topics