Back
From your closet to where? The fascinating lives of clothes
---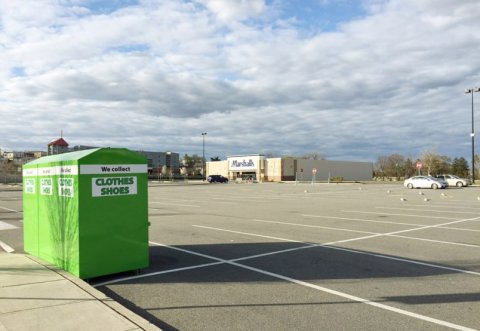 Sponsored Content
In the Metro Vancouver area alone, over 44 million pounds of clothing were thrown out last year and sent to landfills. There, many of the items containing plastic will take anywhere from hundreds to thousands of years to decompose.
By way of contrast, Green Inspiration wants you to know just what happens when you deposit your used textiles in one of their green bins. Green Inspiration BC has over one hundred collection locations scattered around the Lower Mainland and Greater Victoria area. Last year, they diverted over 1,200 tonnes of clothing from landfills. "Over 90 per cent of what we collect is recyclable," says Pavel Lalev, a manager with the company.
"Fifteen to twenty percent of it is resellable here in North America, and the rest goes to countries like Chile, Ukraine or Pakistan," he continues.
The best quality items are sent to thrift stores in those countries where they are sold to locals in need at affordable prices. The rest of the more worn items are given to non-profits, where they are distributed amongst those who are most in need. After this, the very small amount of clothing left over finds new life as rags, the stuffing of car seats, and many other repurposings.
Lalev notes that there are things you can do to make your clothing purchases more ecologically sound. Buy gently used or recycled clothing whenever possible, avoid purchasing clothing with plastic content (such as acrylic, nylon, spandex, and polyester, as it is harder to recycle) and repair clothing whenever you can. He adds that brand-new cotton and rayon are also not very eco-friendly, as cotton needs a lot of pesticides to be processed (think 1/3 a pound of pesticides per T-shirt), and rayon depends on clearing forests to grow bamboo. In this way, we can all help take care of our planet.
"It feels nice to be a part of something good," says Lalev. He notes that his company contributes each month to its local partners the Boys and Girls Club of South Coast BC and the BC/Yukon Command of the Royal Canadian Legion. "By recycling, we are able to help people who need it, in more ways than one."
To find out more about the green bins or how you can be more eco-conscious, please visit Green Inspiration BC online.
By: Burnaby Now
GuidedBy is a community builder and part of the Glacier Media news network. This article originally appeared on a Glacier Media publication.
Guided By
Location
Topics