Back
Frugal North Van fashionista gets high on thrifting
---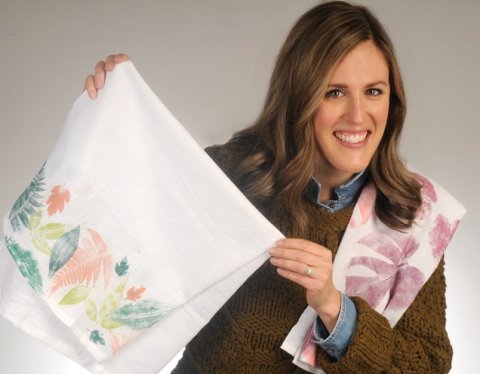 Let's be honest, being stylish in Vancouver can be a slog if you don't have the funds. Unless, you get creative.
Enter Tijana Popovic, a self-proclaimed frugal fashionista living in a Central Lonsdale condo that she brought out of the '80s through some minor cosmetic enhancements – which she did on a budget, of course.
Popovic was 13 and living in Prince George when she found her frugal spirit. The young teen chose to take a job at the local ski hill to support her thrifting habit.
"I get a high off the find," admits Popovic. "I also like the challenge of finding specific items."
This fall Popovic has curated a dream list of clothing and décor to hunt for at the local thrift shops.
So far, she's checked a few items off her list: a vintage pastel portrait and a vintage plaid skirt. Popovic's local hot spot for penny pinching is the Salvation Army Thrift Store on Fell Avenue.
Her savvy lifestyle is no secret. Popovic shares tips and tricks on her blog, called A Plentiful Life, focusing on frugal fashion, thrift store finds, DIYs and budget room makeovers. Featuring artistic photos of Popovic sporting frugal fashion, along with elegant home décor hacks, her website is wrapped up with the tag line: "How to live your best life on a budget."
The blog started about five years ago when a friend asked Popovic incredulously: "How can you afford to live on a contractor's salary in one of the most expensive cities?! Since then, Popovic has opened a window to her frugal world, via A Plentiful Life.
The biggest challenge with being frugal is the cost of food, Popovic has learned. Her two lifesavers in this area are a Pinterest board and online grocery shopping. Popovic and her husband "pin" their favourite recipes and shop for the ingredients online.
"So you can compare all of the prices and the items that you want to buy," explains Popovic.
Besides the cost savings, there's also the bonus of skipping the lines at the grocery store.
Fall is a time to turn over a new leaf – and that seasonal refresh doesn't have to be expensive.
The easiest way to makeover a room, says Popovic, is to declutter and then swap out some accent pieces for a new look: paintings, rugs or pillows. Popovic has found mirrors, art and other small décor items at the Salvation Army.
As the old saying goes: One person's trash, is another person's treasure.
When it comes to clothes, there are some second-hand shops on the North Shore where you can find fashion for a bargain, including The Comeback in Edgemont Village, Colette's Frocks in Lower Lonsdale and Encore Fashion Boutique in Dundarave.
Popovic will host a DIY botanical printed tea towel workshop at the Vancouver Fall Home Show, Friday, Oct. 19 at 1, 4 and 6 p.m.
Participants will use real leaves and lots of colour to create a one-of-a-kind kitchen accent for fall. The fee is $30 and includes supplies and home show admission.
Hair care is Popovic's non-negotiable budget item, she says with a laugh.
"That's the splurge," she says. "I think that everyone thinks that being on a budget means you have to stay in a bubble and not do anything. It's about being smart in certain areas so that you can afford those more expensive items that you consider a splurge."
To learn more about Popovic's upcoming workshop, visit aplentifullife.ca.
By: North Shore News
GuidedBy is a community builder and part of the Glacier Media news network. This article originally appeared on a Glacier Media publication.
Guided By
Location
Topics