Back
Get the star skin care treatment you've always wanted
---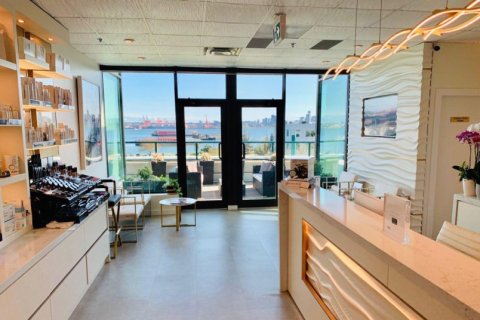 Sponsored Content
Want to be pampered like a celebrity?
Become a client of Celebrity Laser and Skin Care in North Vancouver and you'll quickly understand what it's like to receive the utmost in a health and beauty clinic treatment from a team of technicians and doctors who use the latest technology to address your needs.
Now in their new surroundings in a penthouse location at 850 Harbourside Drive, the setting lends itself to getting you feeling rejuvenated, inside and out.
"We simply want people to enjoy their time here," said manager and owner Maryam Montazeri. "It's a lot different from our previous location. It's much bigger, in a very nice area and has fabulous views of the water and downtown Vancouver."
Bright and spacious treatment rooms allow clients to come in and relax. Plus, a patio provides a place to enjoy fresh air and comfortable seating.
Overall, it makes for a top-class package, when combined with the leading edge equipment used by the clinic's technicians.
"Before, our clients would come for an appointment, then go home," Maryam said. "Now, they can come in, get a warm welcome, the offer of a drink and actually spend some time, see more of our products and have a nice relaxed visit."
Part of that pampering also comes in the soothing care from staff who are trained in the latest techniques covering a wide variety of services - from body contouring and skin tightening to non-invasive laser treatments for fine wrinkles and a special rejuvenation process developed specially for feminine health.
At the centre of all the services at Celebrity Laser and Skin Care is a deep and caring relationship with each and every client.
"We are very well connected to make sure we know exactly what they need help with," Maryam said. "Then it's our job to help them understand how we can make a change for them.
"We want to be there and provide support so our clients feel good about themselves," she added, "because, when you feel better inside that helps everything and gives you more energy. And if you have a family, and other loved ones, they will sense that and also benefit from a rejuvenated you."
For more about what Celebrity Laser and Skin Care can do for you, call 604-912-0220, or visit their website at celebritylasercare.ca.
By: North Shore News
GuidedBy is a community builder and part of the Glacier Media news network. This article originally appeared on a Glacier Media publication.
Guided By
Location
Topics