Back
There's an underground society of naked sauna people traveling around B.C.
---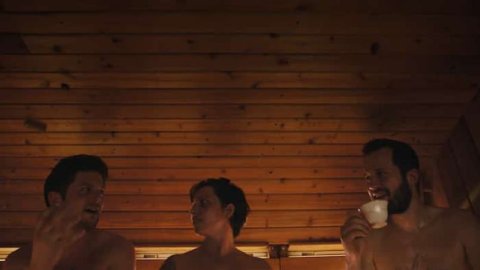 "Bring a towel."
That's the message from the BC Mobile Sauna Society – a mobile sauna and spa society that provides saunas at weddings, festivals and even staff retreats across British Columbia. The society also hosts regular sweats around Vancouver, which connect sauna enthusiasts across the Lower Mainland in the spirit of 'sweat.'
While many people think of saunas as stationary buildings, or rooms in buildings, mobile saunas are built into a wide range of vehicles. In fact, mobile saunas around the world include everything from sauna tents to sauna bikes, sauna boats to sauna cars. Currently, the BC Mobile Sauna Society lists a sauna truck, sauna van, sauna tent, a 'TBus' sauna, and even a sauna dome on its website.
Bryce Zimmerman, Vancouver-based cinematographer and filmmaker, directed a CBC Short Documentary about the Society called Sweat Together. He traveled up to Harrison Mills with the group in one of their specialized 'sweat-buses,' to showcase what brings the group together.
Vancouver Is Awesome spoke to Zimmerman about what inspired him to shoot the documentary, and what he's discovered about the 'sweat' community.
"For nearly 20 years, a series of enterprising Vancouverites have built mobile saunas around the city. Being unable to afford homes for permanent saunas combined with the desire to sweat in the our plentiful wilderness resulted in the BC Mobile Sauna Society," he described.

"Now years in, they have a bus and regularly meet to get naked, get sweaty, and jump into cold water in the name of community building."
Zimmerman mentions that although the group is friendly, newcomers require an invite to sweat.
"There are some obvious safety and comfortability issues to contend with, since people are naked in the sauna. It's an amazing opportunity to feel free and relax, but you need to feel secure in doing so."
Many of the members describe how the rest of the world melts away in the sauna – clothes come off, hair flattens, and everyone begins to sweat. One person remarks that the experience 'equalizes' a room, while another says that the experience has helped her become more comfortable with her body.
By: Delta Optimist
GuidedBy is a community builder and part of the Glacier Media news network. This article originally appeared on a Glacier Media publication.
Guided By
Topics