Back
Donated wigs welcome, says Canadian Cancer Society
---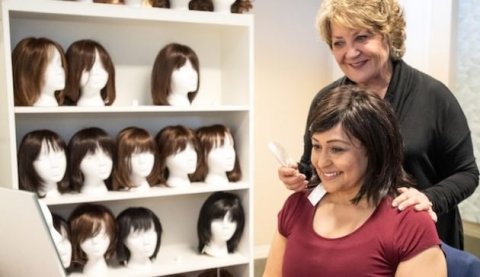 A recent post on the Vernon Community Forum Facebook group asked if a person could donate their wig to someone recovering from cancer treatments.
The short answer is yes.
"Wig banks are an important program for the Canadian Cancer Society," says Sheila Dong, director of strategic communications for the Canadian Cancer Society.
"Through the banks, which are located across the country, we ensure people have access to free wigs, headwear and breast prostheses. The reality is the impact of hair loss on a person's identity and self-confidence can be overwhelming, so our wig banks help to ease that burden when someone has lost their hair due to cancer treatment."
Dong says that last year, the society provided more than 6,800 wigs, headwear and breast prothesis to people with cancer to help them feel more comfortable and confident during and after their treatment.
"This wouldn't have been possible if it weren't for people who generously donated — whether they donated dollars, or their gently used wigs, headwear and prosthesis, or donated their hair to be made into wigs. We are always appreciative of the people who take the time to drop off their wigs as it enables us to help more people during a challenging time in their lives."
When you're facing cancer and the challenges that come with it, it can be difficult to adjust to changes like hair loss. The society helps women living with cancer find wigs when they lose their hair as a result of cancer treatment.
Canadian Cancer Society's Wig and Breast Prosthesis banks provide a wide range of donated wigs, headwear, permanent prostheses and bras to cancer patients throughout B.C. and Yukon who have undergone surgery and cannot afford the cost of a wig or prosthesis, the society says on its website.
For more information, contact the Cancer Information Service 1-888-939-3333 from Monday through Friday from 6 a.m. to 4 p.m.
You can learn more about the program HERE.
— John K. White, Castanet
By: Kamloops Matters
GuidedBy is a community builder and part of the Glacier Media news network. This article originally appeared on a Glacier Media publication.