Back
North Shore personalities spill their hair secrets
---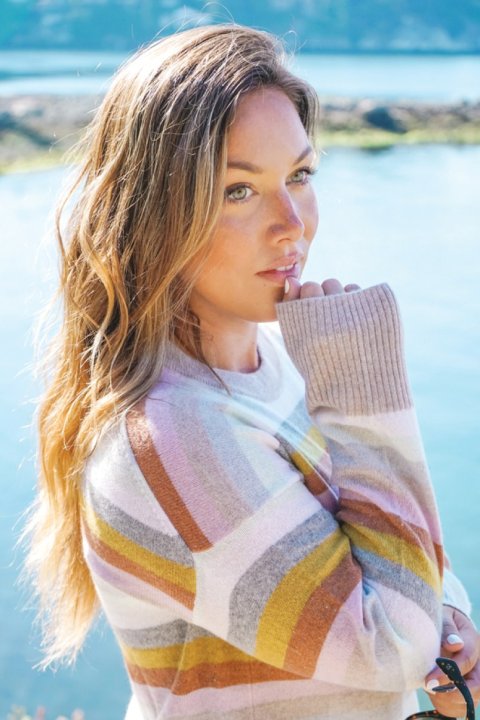 Can a well-groomed coif contribute to success in career and life? Judging from many CEOs, celebrities and some of the North Shore's most successful people, you would say yes. Here, a few local personalities with especially nice manes share their haircare habits.
ALEXANDRA GRANT, North Shore native and founder of lifestyle blog, ToVogueorBust.com
Signature style:"Beachy, sun-kissed brunette. My favourite hair style is undone waves."
Daily style routine: "Very minimal, maybe 10 minutes. I wash my hair the night before and sleep on it. It's very straight naturally so this gives it a bit of bend! I then comb it out with a Mason Pearson comb in the morning and that's usually about it. If I want a bit more wave, I put it in a top knot while I'm working away in the morning. I usually don't use product (especially in the summer as I'm in the ocean a lot) but will sometimes work in a sea spray. I love the one by Ouai!"
Hair guru:"Chris Weber is the best hairstylist in the city; a genius with colour! He's at his salon, Vanilla Loft, in Lower Lonsdale."
Red carpet routine:"I'll curl my hair with a curling rod, focusing on adding layers (I usually break my hair up in three parts and work from the bottom layer up to the top). I spritz with a flexible hairspray or salt spray, let it cool entirely then comb it out. For more body I'll toss my hair over and flip it back up."
Hair icon: "I love Elle Macpherson's natural beauty in all things, especially with her beachy hair."
Most adventurous hair moment: "I was a hair model in university and one time the stylist made my hair fire engine red and created this weird asymmetrical cut where she buzzed off the left side up to my ear."
Perfect-hair secret: "Less is more. I don't heat style too much, almost never blow it out and especially because I travel a lot, I try to treat it particularly well at home and make sure that it's getting lots of hair masks and proper scalp exfoliation. I also always do cold rinses at the end of my showers which helps with shine and texture!"
DENISE ELLIOTT, owner of Denise Elliott Beauty Co. in Lower Lonsdale
Signature style:"Loose curls or a top knot."
Cuts and colours:"(I colour my hair) every three-and-a- half to four months and do a trim. I wish I could (do this) more often but it's hard finding the time!"
Daily style routine:"Using a flat iron is part of my everyday routine as I have wavy hair and I have front wispies that need straightening."
Daily product:"Incredible Milk from milk_shake protects against heat damage, conditions and detangles the hair. I also love using my wet brush to take out the tangles."
Red carpet routine:"I find it's always best to wash it the night before (an event). Day-old hair is so much easier to work with and holds style so much better. We can then apply dry shampoo and work with it rather than (starting with) fresh, slippery hair!"
JILL and MIKE KILLEEN, Deep Cove-based media and PR power couple
Signature styles:
Mike:"Standard male TV news anchor ... except on weekends! A bit of silver (not grey)."
Jill: "Short & sassy."
Hair gurus:
Mike: "Alex Zoubos (at Kaboom on Pender Street) has cut my hair for more than 25 years, with the exception of our four-plus years (living in) Hong Kong. Cut every four to five weeks."
Jill:"Mary Campeotto (at Boccoli Hair Salon on Nanaimo Street) has been doing my hair for 30-plus years – she is the only one I fully trust to cut my hair short. I cheat every now and then, or when I'm attempting to grow my hair out, but I always come back to Mary. I actually have to carry her business cards with me – (I get asked where I have my hair cut a lot). My cut times vary depending on what I'm doing, but I would say every six to eight weeks. For colour, I'm about every seven weeks – also at Boccoli, but Alex Campeotto (Mary's son) who is a colour specialist, does it."
Daily style routines:
"We're both 'hair speedy' in the morning," says Jill. "From blow-dry to finish, we're both about five minutes (Mike might be a bit longer!)," she says.
Mike: "Ready for this … Head & Shoulders (2-in-1). Quick blow-dry. D:Fi's D:Struct product and hair placement (I ensure every hair is in its place)."
Jill: "Daily shampoo and conditioner (I buy Kerastase products from Boccoli). Quick blow-dry and straightening iron. Bit of sticky product (whatever's around) – mess it up and go."
Red carpet routines:
Mike:See above. No change in routine.
Jill: The same for me. I've tried on a few occasions to have someone do it for a special event, and actually came tearing home to put my head under a tap and do it myself.
Perfect-hair secrets:
Mike:"My hair is well trained! Once styled, it stays."
Jill: "A good cut is essential. Even if it starts to grow out, it keeps its shape."
Hair icons:
Mike: "George Clooney and Tony Parsons."
Jill: "Women with short hair – Halle Berry and Charlize Theron with short hair, and (I'm) currently loving Maye Musk's hair! I once read that the shorter the hair, the more confident the woman."
Most adventurous hair moment:
Jill:"I did the Charlize Theron uber-short hair. I loved it. Mike hated it. I actually phoned him on the way home from the salon to tell him it might be a wee short. And of course in the '80s – a few bad perms!"
FALL 2018 HAIR TRENDS 
Jacqui Pervan, education lead at North Vancouver's Zazou Hair Salon and Academy, says: "We're coming into the season of fire places and cosy clothes. Therefore, warm gingers and fiery reds, caramel brunettes and golden blondes are the colour of choice for fall. Summer balayage and ombres will be toning down their blondes to beautiful honey blondes and brunettes."
Denise Elliott says mushroom-brown or ash brown hair colour is in for fall 2018. For cuts and styles the salon owner says a blunt long bob (lob) with a soft wave is on-trend for women while '50s cuts where hair is buzz-cut on the side and slicked back with gel at the top are big for men (think Brad Pitt's hair in Fury). "We're also seeing longer men's styles making a slow come back," explains Pervan.
Expert tips to amazing hair
1) Get a haircut or trim every four to 12 weeks, depending on the style of cut. Short styles need cuts more often.
2) Use semi-permanent hair colour every five-to-six weeks to keep hair shiny and healthy looking.
3) Use moisturizing products such as hair serums or shine sprays daily, and use a deep conditioning mask once a week.
4) Only use strong hold hairspray sporadically. Opt for medium flexible hold spray on a daily basis.
5) Train your hair so that it only needs to be washed twice a week. Use a dry shampoo to get you between washings. This will keep hair from drying out and will help colour last longer, says Elliott.
By: North Shore News
GuidedBy is a community builder and part of the Glacier Media news network. This article originally appeared on a Glacier Media publication.
Guided By
Topics