Back
Health-minded 'blender bar' launches in Kitsilano
---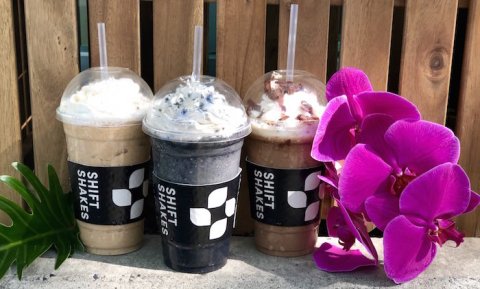 Shift Shakes, a health-minded high-end "blender bar" has opened in Vancouver's Kitsilano.
The ambitious smoothie shop specializes in nutritionist-created non-dairy "shakes" that come in a variety of flavours and ingredient combos, each with the aim of optimizing some aspect of your well-being.
While some of the creations come loaded with protein and can work as a meal replacement, others are designed to work as nutrition-boosting snacks or a healthier dessert alternative.
The menu is predominantly plant-based (they do use honey) but is dairy- and refined sugar-free. Instead, Shift Shakes is whirring up their 20-ounce "mylk shakes" with nut mylks, fruit, nut or seed butters, and dates, along with things like "blue majik," spirulina, maca, collagen, pine pollen, pink himalayan sea salt, and even 24-karat gold flakes.
The gold flakes come into play on Shift Shakes' most eye-catching menu option, the 24K Gold Longevity. Made with Tru Marine Collagen, pine pollen, ginseng, passion fruit, Shift mylk, rose water, saffron, lemon rind, raw honey, rose petals, and those aforementioned 24-karat gold flakes. This one is meant to boost your libido and mood, and features vitamins and antioxidants.
You can customize your shake to be "fit or fancy," with "fancy" meaning the addition of their coco-whip topping. You'll find the shake menu split in three sections: Classic, Super, and Beauty, and the shakes are priced from $8.95-12.95.
Customers looking to maximize some aspect of personal wellness, from skin health to libido, can be steered towards a shake option that includes ingredients aimed at addressing that concern. But the shop also is there to serve as a spot where you can get something that seems indulgent but is actually made without sugary junk.
The menu was designed by Dr. Noya Madadi, Shift Shakes Director of Food and Nutrition, who explained during a recent pre-opening tour that the concept began as a long list of "shakes" they made and took around the neighbourhood as samples to get feedback before narrowing it down to the most popular options. In the future, Madadi says they may add more shakes or offer customization, but to start off, the shakes are done as-is.
In addition to the drinks, Shift Shakes offers grab-and-go items like chia puddings, vegan yogurt parfaits, "power" bites and more.
With a focus on sustainability, Shift Shakes will only be using recyclable and compostable to-go containers, and will use food by-products when possible.
The Kitsilano storefront was designed to evoke a modern, streamlined, and chic vibe and is enhanced with a living wall, as well as greenery from Vancouver florist Hilary Miles. Pre-ordering is available online so that those truly on the go can pop in and out quickly and skip the line.
This will be the first Shift Shakes in Vancouver, but the brand says they already have plans on expanding to include multiple locations in the city in the next few years.
Shift Shakes opened their doors on Friday, May 31, 2019. They're located at 1835 West 1st Avenue in Vancouver.
By: Vancouver Is Awesome
GuidedBy is a community builder and part of the Glacier Media news network. This article originally appeared on a Glacier Media publication.
Guided By
Location