Back
Profiles of Excellence: Triniti Laser Clinic and Medi Spa
---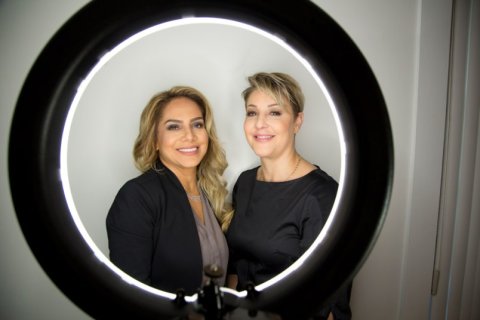 Sponsored Content
For Tahora Eslahian and Tina Ruggiero, there's no better magic than the ability to transform how a client feels, inside and out.
The duo owns Triniti Laser Clinic and Medi Spa in New Westminster, which has re-located into a revitalized heritage house on Sixth Street.
Being able to offer top-notch services in a beautiful environment is something the pair is ecstatic about – but it's the impact that their work has on each client that makes them so proud of the work they do.
"People sometimes think of what we do as being about the outside, but what we see is clients who feel great on the inside because of what we can do for them," said Tahora Eslahian, who owns Triniti along with Tina Ruggiero.
"That's the best part of this work – you may have a client who comes in with acne, for example, who is feeling upset and insecure about that but we can find solutions for them."
The clinic offers an array of services, including laser treatments to help with skin conditions and anti-aging, body contouring, laser hair removal, medical facials, permanent makeup, reflexology and more. Some services are aimed at treating current issues, others at prevention, and still others – such as hair removal – can simply make life simpler and easier for a client. Other services are focused on providing relaxation, balance, and general wellness.
No matter what services a client comes to Triniti looking for, or if they are a long-time customer or a first time visitor, the focus on excellence is the same.
"The level of service we have here is the best, hands down," said Eslahian. "It's all medically influenced, it's the best technology, the most effective tools and techniques."
That approach has helped the company grow by leaps and bounds over the years as loyal customers continue to return, but also recommend Triniti to their friends and family.
"Word of mouth has been the primary way we have grown and we love knowing that someone has recommended us," she said.
The move into the new space has been an exciting evolution for the business.
"We renovated a beautiful heritage home on Sixth Street – it's three levels, a beautiful large space. From the outside it looks a house but inside we have quite a number of treatment rooms and it's a beautiful place to be able to work with our customers."
Both Eslahian and Ruggiero have substantial experience in the field; Ruggiero is a certified laser technician with more than a decade of experience, and Eslahian has served as a trainer in laser treatments across North America.
"We have great expertise but we are always learning, too," said Eslahian. "We want to know we always have the best techniques and tools, and that we are educated about the best ways to help our clients. We treat our clients like family – if there's a service that I wouldn't do to myself, or to my family or to my best friend, then I won't perform it on a client."
For more information, please visit their website.
By: New West Record
GuidedBy is a community builder and part of the Glacier Media news network. This article originally appeared on a Glacier Media publication.
Guided By
Location
Topics