Back
The Lipstick Project seeks volunteers to help patients 'feel like themselves again'
---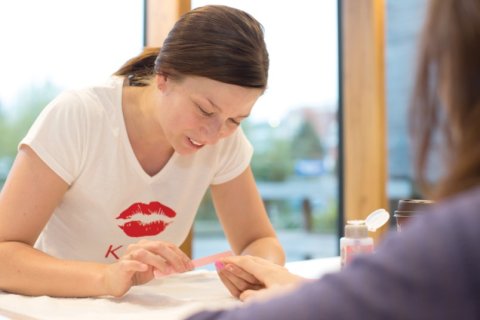 Given her nature, her last wish came as a surprise to her friends and family: she wanted a makeover.
"In her last two days of life, she surprised her family by asking them if she could get a haircut by a professional, and if she could get her nails done, but unfortunately they couldn't make the request happen on such a short timeline. And they also struggled a little bit to find somebody who was comfortable providing those services in the environment of the hospice," says Leigh Schumann, who started The Lipstick Project shortly after her friend's mother-in-law passed away in 2012 without getting the professional beauty care she sought in her final hours.
Today, The Lipstick Project has more than 60 volunteers providing free professional care, massage, nail and makeup services to men, women and children who are facing significant health challenges across 10 centres and institutions throughout the Lower Mainland.
The organization is seeking more help from local residents willing to volunteer anywhere from three to six hours per month, notes Schumann, who grew up in Lynn Valley.
"We're looking for volunteers from the North Shore to volunteer at the North Shore Hospice – one hair stylist, one massage therapist and four estheticians, as well as we have opportunities for general volunteers," says Schumann.
When Schumann founded The Lipstick Project several years back she says they started offering their free services in hospice care centres, but have since expanded their mandate to include hospitals, respite homes and recovery centres.
"We also provide our services to their primary caregivers. We feel strongly that taking care of caregivers is one of the best ways that we can care for people who are the patients as well," says Schumann.
On the North Shore, The Lipstick Project mainly offers their services to patients at North Shore Hospice as well as the North Shore Stroke Recovery Centre.
Asked why Schumann feels that the services that The Lipstick Project provides are so important, she says their work helps people feel a little more like themselves when they're experiencing significant health challenges.
"There's lots of people around doing an amazing job caring for all of the things going on in a person's body, and sometimes it's just nice to have somebody from the outside who's there to take care of something that can almost give you an hour of respite while you receive that care," says Schumann.

"So much of what we do revolves around helping people to feel that way and to feel like themselves again and that restoration of dignity."
Schumann praises the work done by Lipstick Project volunteers and the beauty and care industries for the talented people they turn out.
"We found a lot of people in these industries are very generous with their time because they're already motivated to be in those professions because they like caring for people and they like taking care of people in that way," she says.
North Shore residents interested in volunteering with The Lipstick Project on the North Shore can email volunteers@thelipstickproject.ca or visit thelipstickproject.ca for more information.
By: North Shore News
GuidedBy is a community builder and part of the Glacier Media news network. This article originally appeared on a Glacier Media publication.