Back
Make a Shopping Trip For Jewellery
---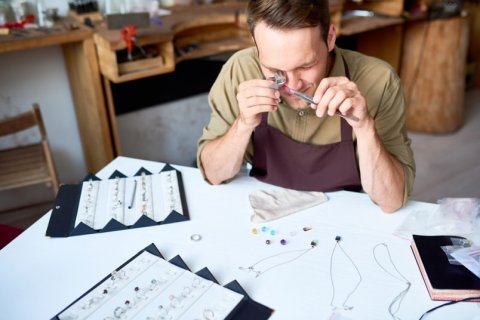 Sponsored Content
The next time you're on the market for a beautiful piece of jewellery, a work of art, or snowboard gear or even a laptop, you might consider stopping at your local pawnbrokers. Since 1955, Royal City Jewellers and Loans has been providing a service to New Westminster and the area.
From $2 Blu-ray videos to $50,000 works of art, there is something for everyone at the shop, which is located on Columbia Street in New Westminster. "We have couples coming in wanting to buy engagement rings to people coming in to purchase musical instruments. We have an incredible variety of items for sale," says the company's General Manager, Ken Basso.
The store boasts a busy staff of 22 employees, including two goldsmiths, an apprentice and Gemologist, an electrical technician and many loan officers and sales associates.
"Shopping should be a special event like it was in the 60's and 70's when you could try on or test merchandise and interact with people who know what they are talking about. We get to shape the customers experience by building relationships," says Basso. "If that is not enough to convince you to visit us, consider that we hold membership to a community of diamond and gemstone wholesalers. We carry loose diamonds and gemstones at wholesale prices."
Though the salespeople are very helpful and friendly, Basso says they are not pushy. "There's no pressure here. There are no commissioned sales people."
At the end of the day Basso says he loves his job because of the benefit it brings to the community, and the relationships he's built over the years. "We have a lot of repeat and generational customers. Today we are dealing with the grandchildren of some of the people I've served in the past."
For store information and hours visit http://www.rcj.ca/
By: New West Record
GuidedBy is a community builder and part of the Glacier Media news network. This article originally appeared on a Glacier Media publication.
Guided By
Location