Back
Elderly pug pilots pooch wheelchair designed at BCIT in Burnaby
---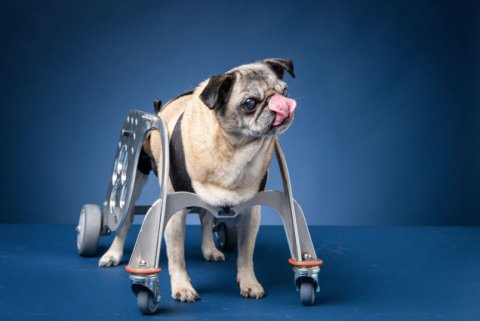 Elderly canines with osteoarthritis could soon stay mobile with a dog wheelchair developed at BCIT in Burnaby.
The device – currently being field-tested by a 14-year-old pug named Lily – has been specially designed for old dogs weakened by age.
Existing dog wheelchairs are designed with the expectation the mobility-challenged dog has a lot of front strength, as in the case of paralyzed young dogs, according to BCIT.
But older dogs don't have that front strength.
Some manufactures have tried to address that challenge by adding front supports, but the added weight makes it even more difficulty for a mobility-impaired dog to navigate, according to Ann-Marie Fleming, Lily's owner and founder and CEO of Dog Quality.
Fleming, who lives in 100 Mile House, took her problem to BCIT's MAKE+ team – a group of multidisciplinary BCIT researchers focused on product and process development, evaluation, applied research projects and education.
Working with Fleming, the team spent 10 months researching, gathering input from veterinarians and dog owners and creating multiple iterations of a prototype.
The result, the Dog Mobility Device (patent pending), is a highly maneuverable and lightweight dog wheelchair designed to support both front and rear weakness.
"Our design team worked with the client to make this project succeed," BCIT MAKE+ project leader Nancy Knaggs said in a press release. "The expertise we learned from dog owners and experts in the veterinarian community helped us design a prototype that is one of a kind".
The device is now being field-tested by Lily, one of three rescue dogs Fleming has taken in.
Lily was born with a malformed vertebra and underwent a complicated surgery a couple years ago to stabilize her spine, according to the Dog Quality website.
Fleming is an advocate for senior dogs, and her company specializes in products – from dog diapers to dog strollers – designed to improve the quality of life for older canines.
"Working with the BCIT MAKE+ team has been easy from the start to finish," Fleming said in the release. "The team truly understood what we were trying to accomplish with this device and took the time to learn about the needs of senior dogs."
As dogs age, they face many of the same health issues people do, including arthritis, ligament injuries, hip dysplasia and degenerative diseases, according to the release.
Light daily exercise limits further muscle loss and joint stiffness or swelling associated with aging.
By: Burnaby Now
GuidedBy is a community builder and part of the Glacier Media news network. This article originally appeared on a Glacier Media publication.
Guided By
Location
Topics