Back
Looking for an International Baccalaureate education in French?
---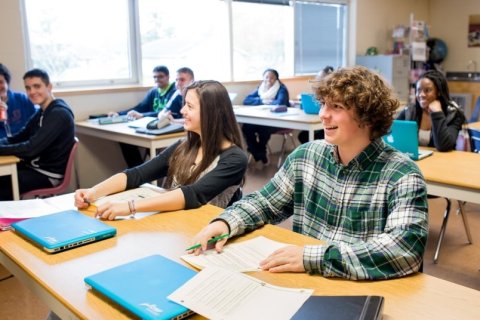 Sponsored Content
Since its inception in 1995, the Conseil scholaire francophone (CSF), or School District 93, has offered children from K – Grade 12 an education in French. Part of the B.C. education system, the CSF follows the regular school curriculum for all students in the province, including the usual standardized testing methods.
Several of the CSF high schools offer the world-renowned International Baccalaureate (IB) program. Founded in Switzerland in 1968, the IB is a non-profit foundation offering four programs of education designed to develop the intellectual, personal, emotional, and social skills in students to prepare the to live and work in an increasingly globalizing world.
Vancouver's l'école Jules-Verne, part of the CSF school district, offers the IB program to students with instruction in French.
"All the core subjects are taught in French," says Claude Martin, principal of Jules-Verne,"including math, science, history, art, music—and, of course, French. There is an English language component too, but otherwise the entire program is taught in French."
According to M. Martin, the biggest advantage to graduating with an IB diploma is the life skills learned along the way.
"The work habits that you learn and experience in the program will last a student a lifetime," he says. "A student's first year in university will be so much easier because of the work and study habits they learn through the program."
Another advantage is that some universities will grant exemptions on first year courses for students who possess the IB diploma.
"Universities are independent institutions, of course," notes M. Martin, "but there are universities that will grant course exemptions for students who have achieved a high mark on the diploma. It not only means less work for the student, but also less money spent on courses."
The IB diploma program is available to students aged 16 to 19 years old and is taught in over 4,000 schools around the world. In addition to teaching a strong work ethic and valuable organizational skills, the program is designed to foster and develop curious and engaged minds in young people.
For more information on CSF and its French education programs, checkout the website for your closest school, or phone 604.214.2600. CSF can also be found on Facebook and Twitter.
By: Burnaby Now
GuidedBy is a community builder and part of the Glacier Media news network. This article originally appeared on a Glacier Media publication.
Guided By
Location
Topics