Back
Lonsdale eatery combines two culinary traditions
---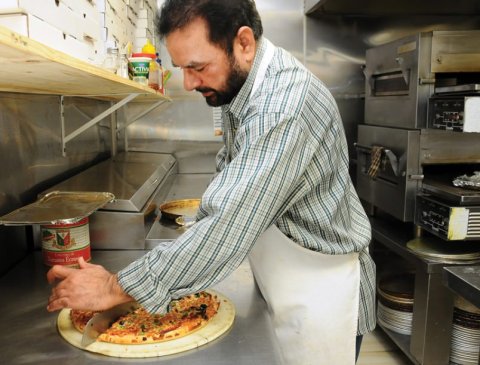 If you have a favourite fast food restaurant, a place through which you indulge your guilty pleasures, there is likely no reasoning with you about it.
Say it is a burger place you have in mind, I could tell you all about how Two Rivers likely trounces your guilty burger on every measure from the quality of base ingredients to the meticulous preparation. But it would not make a difference; you know why you like your go-to fast food joint and no academic arguments are going to dissuade you from visiting it again.
Following a recent visit, I am forced to conclude that Mr. Pan Pizza & Indian Curry House is a guilty pleasure establishment with its own contingent of beyond-reasoning followers, explaining its success in such a fiercely competitive marketplace. When I finally got around to checking the place out, having filed the off-the-beaten path restaurant away in my "rainy day" mental folder some time ago, I was surprised to discover how busy it was. When I placed my order, an admittedly large selection of fare from both the pizza and Indian cuisine sections of the menu, I was quoted 40 minutes for pickup. When I arrived 45 minutes later, I was told my order was almost ready. I sat in the tiny waiting space at the entrance of this take-out only restaurant and thoroughly enjoyed the bold scents coming from the kitchen right around the corner. Mr. Pan's phone rang steadily throughout my 10 minute wait and a few customers dropped in to pick up their orders, representing a balanced mix of pizza and curry patronage. The staff on hand were friendly and professional. Clearly the business has found its audience.
As I sat waiting, I pondered Mr. Pan's business model, an operation that marries two such disparate culinary traditions. It seems an unlikely combination until I stop to think about my own takeout habits. Add sushi and donair to Mr. Pan's mix and you'd effectively have my order-out repertoire covered in one spot, save for the odd Greek or Chinese indulgence. Mr. Pan's pizza and Indian food menus are robust, each offering an array of stalwarts in their respective categories, from Hawaiian pizza to Lamb Vindaloo.
On the flip side, I think that Mr. Pan is, from this reviewer's critical perspective, a victim of timing. You see, if I were to choose two culinary categories against which I would avoid competing at all costs on the North Shore, they would surely be pizza and Indian cuisine. Today, we have some of the best offerings around in both camps. Recently reviewed Nicli Antica sets the bar mercilessly high for traditional Neapolitan pizza, but our scene was not exactly lacking before them with places like Bowen Island Pizza, Il Castello, and Carmelo's upholding exceptionally high standards. On the Indian front, as I have said many times in this column, we are truly privileged to have top shelf venues like Swad, Palki, Mumbai Masala, Handi, Indian Fusion, and Vaades. One has to possess immeasurable confidence to go head-to-head with these players.
You might argue that Mr. Pan is a different business entirely, with its takeout-only, fast food approach. The problem with this argument is that Mr. Pan is not, in my estimation, fast food. Against the most literal interpretation of the term, an hour-long preparation time for my order is incongruous. In a more general sense, it was clear from the preparation of the Indian items that dishes are made from scratch; there was care and attention paid to the spicing of the curries and certain flavours showcased by my selections clearly could not have been rushed. Also, at $12 to $16 for most curries, prices are not far off those of the great restaurants listed above. So if they're not fast food, they can be fairly compared against some stiff competition, begging the question: why choose this restaurant over the others?
Perhaps the answer is: for the pizza. Maybe, though if I'm being blunt, the pizza here is not in the same league as any of the other venues I mentioned. Where Mr. Pan wins in this category is on price. There are some exceptional two-for-one, even three-for-one pizza offers here that put a daunting volume of pizza in your hands for a relatively low price. For office parties, impromptu get-togethers or other occasions where volume for price is your primary concern, Mr. Pan is a good choice.
Of the three pizzas I ordered, The Ultimate was, well, the ultimate, the sheer volume of toppings (which included pepperoni, mushrooms, ham, onion, green peppers, black olives, tomato, pineapple, ground beef, and smoked bacon) distracting me from the forgettable, thick, bread-like crust, which prevailed across all the pies.
Now look, I don't want to pick on the little guy. There is definitely a stylistic preference informing my opinion here. Indeed, I was in Chicago this past summer and hit up the famous Lou Malnati's for a signature deep dish, considered by many vociferous fans to be the best pizza in the country. I thought it was OK, but in truth, about one and a half slices into the absurdly dense pie, I wished I was eating a basic margherita on thin, springy crust instead. To each their own.
The standouts from my meal were from the Indian menu. The Prawn Masala, a generously portioned dish of meaty prawns in a creamy, tomato and onion-focused sauce was a winner that I downed gladly with some naan and cold beer. Similarly, the Karahi Paneer was a fresh and fragrant dish with sizeable chunks of the homemade cheese sautéed with onions, ginger, and tomatoes, while the Aloo Gobi, a Dagenais family staple, was well executed with loads of cauliflower in a ginger-centric sauce.
Lamb Saag was a partial success, the thick, hearty, thoughtfully spiced sauce suggesting inestimable volumes of spinach used in the preparation, but was ultimately marred by chewy, unremarkable meat. Butter Chicken adequately delivered against expectations with its tangy, creamy tomato sauce and was well received by my kids, while an appetizer of Vegetable Pakora was satisfactory as well, if weighed down by too much batter. A side dish of raita (a cooling savoury yogurt that helps to temper Indian spices and aid digestion) was inexplicably prepared here with tomato, the acidity of which was at odds with the yogurt's own malic acid.
It is surely the sign of an excellent dining scene when the sheer volume of choices in a particular style can raise the bar on quality and elicit such clear favourites.
Mr. Pan Pizza & Indian Curry House. 112-12th Street West, North Vancouver. 604-985-6699.
By: North Shore News
GuidedBy is a community builder and part of the Glacier Media news network. This article originally appeared on a Glacier Media publication.
Guided By
Location
Topics