Back
North Vancouver's Shipyards ready for debut
---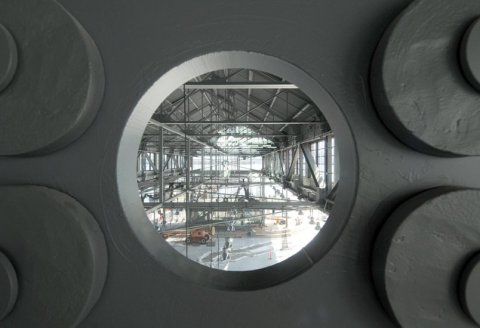 Things are buzzing in the Shipyards. After a century as a hub for industrial activity and decades as polluted brownfield, City of North Vancouver's waterfront is being reborn as its premier public gathering space.
On the eve of the Shipyards' grand opening, Mayor Linda Buchanan is beaming.
"I can't tell you how excited I am. This has been a long time in the making. I am absolutely ecstatic about Saturday," she said. "This is a great day for the City of North Vancouver. This is, in my opinion, the jewel in the crown for the city."
On Saturday, the neighbourhood from Lonsdale Quay to the Shipyards will have a festival-like atmosphere with the main event kicking off at 2:30 p.m. in Shipyard Commons – an 8,000-square-foot water play area/indoor-outdoor plaza with event stages.
"This just allows for the public to get outside, use the community as their backyard and it provides lots and lots of social opportunities to connect with one another, in events that are programmed for free," Buchanan said.
A little history
Wallace Shipyards and Burrard Dry Dock churned out hundreds of ships and employed thousands of people, particularly during wartime, near the foot of Lonsdale. When the last ship sailed in the early 1990s, the area fell into decay.
In the 2000s, there were plans to build a National Maritime Museum there and the city went to great expense to preserve the stern of the HMS Flamborough Head – one of the Victory Ships built there – to be included in the project. But the provincial government pulled funding from the project in 2008, leaving the city with no clear plan for the space.
After much angst, the city hired destination marketing guru Roger Brooks in 2013 to help come up with a vision for the public land. Some of his ideas didn't make the cut – notably, a new home for the North Vancouver Museum and Archives and a ferris wheel – but others, like a public skating rink and summer splash park remain. In 2016, the city signed a deal with Quay Property Management, the owners of Lonsdale Quay, to be the development partner.
"There has been lots of planning and process. There have been many, many people involved," Buchanan said. "There have been a number of critical decisions along the way – difficult decisions along the way. But here we are and I couldn't be prouder of the city, and the staff and the citizens of North Vancouver."
Shipyards, ahoy
In the winter, Shipyard Commons will be converted to a 12,000-square-foot ice pad, which will be among the first CO2-chilled rinks in Western Canada. It will also be tied into the city's Lonsdale Energy Corporation and include a heat recovery component to heat the buildings on the site during the winter months.
"We're going to make this really a lively place," said Lino Siracusa, Shipyards manager. "In the off season, we've got opportunities for staging various events. This could be a really dynamic space that continues to provide that animation for the area. It will spill over into the pier and so forth."
Siracusa said he fully expects the Shipyards to give Granville Island a run for its money. And he should know, having been the manager of the Vancouver destination for seven years.
The Shipyard Commons building itself is a near replica of the historic Machine Shop once used in shipbuilding. It stands just a few feet away from where the original one stood.
"The idea was to pretty much resurrect the ghost of that old building overtop of this public plaza to provide this amenity in conjunction with the commercial development," said Shane Oleksiuk, Dialog architect.
Although the Flamborough Head and the steel from the original Machine Shop are gone, flotsam and jetsam from both have been salvaged and incorporated into the public art that adorns the Shipyards.
Already open at the site are the Welcome Parlour ice cream shop and Larry's Market, an organic, vegetarian grocery store. Over the coming weeks and months, the commercial portion of the site will be activated with a 70-room boutique hotel, satellite campus for Capilano University, restaurants Joey Shipyards, Jamjar and Nook, and a Café Artigiano with a public rooftop patio and outdoor fireplace for the winter. The site will also host Main Street Honey Shoppe, the Wallace event venue, a Reckless Bikes retail and rental location, Method Indoor Cycling, a sales office for Heatseeker Sales Inc., an UrbanGlo Beauty salon, as well as a barber/pub concept. Only one retail space remains up for grabs at the site.
Underneath Shipyard Commons are 140 new parking stalls including bike storage, car shares and EV charging stations.
Sea change
Former mayor Darrell Mussatto will be front and centre for Saturday's opening. He was a strident proponent of the plan when he was on council, even at the cost of some of his own political capital.
"It's very satisfying and I felt very proud of being a part of that, helping it along," he said.
Mussatto said he has only one regret about the project on the eve of its opening. It's missing a certain something that lights up and rotates around a hub.
"I'm a broken record, I know. I think an attractively designed ferris wheel would be an attraction there but it is what it is," he said. "Maybe one day."
While the Shipyards coming online is an achievement, Mussatto acknowledged it's also symbolic of the larger transformation Lower Lonsdale has gone through over the last 25 years.
"It was pretty scary. It was a place where parents told their kids not to go. 'It's not safe. It's not a nice place.' It's was an area in decay," he said.
Revitalizing LoLo has been the aim of many councils going back a long time, Mussatto noted. More than 20 years ago, he took Jimmy Pattison on a tour of the area and the mogul stressed to him the importance of the neighbourhood over the longer term.
"He looked at me and said, 'Don't screw it up,'" Mussatto said.
Ship shape
More than new condos, the neighbourhood is now home to the Polygon Gallery, the Spirit Trail and, soon, the new North Vancouver Museum and Archives. Today, Mussatto said he's proud of the legacy he and other elected members have delivered there.
"It's an exciting, safe, great place to be. It's one of those urban environments that I think every great city should have and I'm really proud of it," he said.
Buchanan agreed.
"[We wanted] a much more walkable, compact community, close to transit that had a vibrant streetscape. I think it's achieved that in spades," she said.
One person who can attest to the changes is Cath-Anne Ambrose, the unofficial "Queen of LoLo" who has lived on First Street for 16 years.
"When I first moved here, I could see it had so much potential and I was surprised that it was so undeveloped at that time," said Ambrose, who has been participating in city planning initiatives for the waterfront area for the last decade. "I'm actually really excited to see the new waterfront and what it's going to look like and how it's going to come together."
Gentrification has brought growing pains though, Ambrose acknowledged – it's harder to find a parking spot, longtime businesses and friends have been displaced and construction seems constant.
"There is the fine balance of wanting to keep the original neighbourhood and support new business ventures in the community," she said.
And there are more changes coming – a master plan for Waterfront Park and Semisch Park in 2020, an eventual rebuild of North Shore Neighbourhood House including non-profit housing, and a brewery district, Buchanan noted.
"When we're city building, it doesn't really end," she said. "There are some great elements all coming together but, like anything, they don't happen overnight."
For now though, Buchanan said she is just looking forward to seeing the looks on children's faces when she hits the "On" switch on Saturday.
"I think when we get to finally turn on the water and watch them get excited about using that space, and seeing people interacting with one another, that's going to make my day," she said.
By: North Shore News
GuidedBy is a community builder and part of the Glacier Media news network. This article originally appeared on a Glacier Media publication.
Guided By
Location