Back
Bucking tradition sets wedding apart
---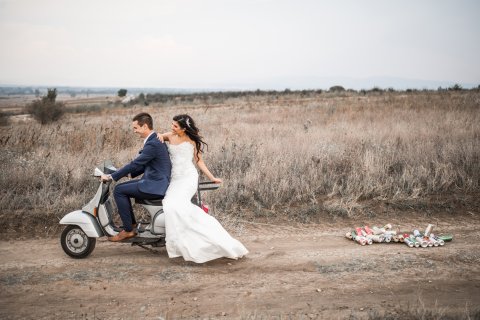 Over the course of their lifetimes, people will be wedding guests on several occasions. During the height of wedding season, weddings can run into one another, as the format and the festivities are similar at various ceremonies.
Couples interested in setting their nuptials apart may want to enhance the wedding reception with a few unique ideas.
Who hasn't attended a wedding that seems formulaic? The couple enters, they do their spotlight dance, there's food, a bouquet toss and then the cake cutting.
Here are several ideas you can introduce into your wedding to add something special to the reception.
- Skip the big entrance. Those who were kind enough to attend the ceremony have already been introduced to the newly minted happy couple. Instead of spending the cocktail hour in the isolation of the wedding suite, mingle with your guests from start to finish. It can be a great time to sit and chat.
- Dance to an upbeat number. If you haven't mastered the waltz but enjoy a little quick step now and again, feel free to choose a tune that shows your excitement and love for each other.
- Encourage couples to dance together. It's often customary for the bridal party to join the bride and groom on the dance floor midway through the first dance. However, that leaves spouses or significant others waiting in the wings.
Instead, don't have assigned partners. Rather, encourage your bridal party members to dance with whomever they choose.
- Swap the garter/bouquet toss for something more meaningful. Use this time to present a small gift or token of your affection to someone on the guest list who has served as a mentor or source of inspiration.
- Choose one special component as an extra goodie for guests. Some couples feel the more they offer, the better guests will view their wedding.
If you want to go above and beyond the ordinary, find one thing that you absolutely love and offer that at the party. It could be a flambé presentation, a chocolate or candy bar, a carving station with your all-time favourite food (even if that's PB&J), or a carnival-inspired automatic photo booth.
- Hire a live performer. A live band adds a certain level of excitement. Those who are adding a cultural or ethnic component to their wedding may want to hire a dance troupe or another type of performer, like a bagpiper, as an added measure of entertainment.
- Let them eat ... cookies? Some people just don't like cake. Towers of different types of treats can be created from just about anything and serve as the perfect backdrop for that classic cake-cutting photo.
- Stage a costume switch. Let's face it, dancing all night in a long gown takes some stamina.
As the bride, have a more comfortable cocktail dress available to switch into for the latter part of the reception. It will also add some variety to your wedding photos.
By: Richmond News
GuidedBy is a community builder and part of the Glacier Media news network. This article originally appeared on a Glacier Media publication.
Guided By
Location