Back
The top 10 holiday movies to watch cozy at home
---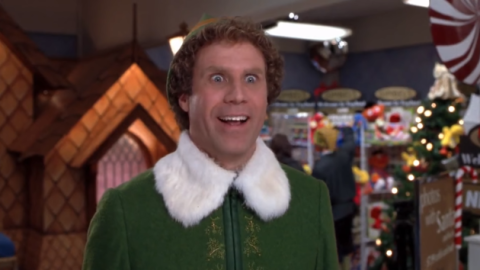 It's the most magical time of year and there's a feast of fun holiday movies to get you in the festive feels.
Of course, there are always the classic holiday films, such as the heartwarming It's a Wonderful Life, but there are also some recent takes on classic favourites that are almost better than the originals. For example, the classic movie adaptation of Charles Dickens' A Christmas Carol has been done a number of times on the big screen, and it is tough to say which one is best.
And then there are the outrageous, and simultaneously wonderful, features such as Elf and Home Alone. These films are hilarious, adorable, and great for the whole family.
Have a look at some of the best holiday movies to watch while you are cozy at home, and while you might have seen some more than once, it's never a bad move to relive any these.
Elf
Elf is the heartwarming tale of an over-sized Elf named Buddy who was accidentally transported to the North as a child. Upon realizing this he travels to New York to find his birth father. Of course, he has a bit of a hard time fitting in, and his hi-jinx provide endless comic relief for viewers.
Home Alone
A truly heartwarming, yet utterly hilarious movie, Macaulay Culkin stars as 8-year-old Kevin McCallister who is left behind by his family when they leave for a Christmas holiday. Following their departure, two scheming thieves try to rob the household, and he loyally defends it in his family's absence. Filled with laughs and classic one-liners galore, this festive favourite is holiday fun for the whole family.
Die Hard
Die Hard is a Bruce Willis tour de force – he plays a tough New York cop that is visiting his ex-wife and kids on Christmas Eve. While attending a holiday party some terrorists take over the building that they are in and take hostages, and it's all up to Willis to save the day (obviously). Some may say it's not a Christmas movie, and to that we say "Yippee ki yay!"
Miracle on 34th Street
Looking for a tear-jerkin', heart-warming, family-friendly affair that will get you right in the feels? Miracle on 34th Street features a man who is put on trial for believing himself to be Kris Kringle (Edmund Gwenn actually won an Oscar for his role, the only time Santa got one). While most people question his sanity, one sweet little girl believes in the magic. And if you're bored of the classic for some reason, the 1994 remake is a solid film in its own right.
It's a Wonderful Life
A man is suicidal on Christmas Eve, and if the description ended there it might not be so joyous, but his guardian angel intervenes to show him how much his life has meant to the world. As one of the most beloved Christmas movies of all time, it was nominated for a whopping five Academy Awards.
Love Actually
It may not be everyone's favourite holiday movie, but for those who enjoy Love Actually, they really love it. The narrative follows multiple romances throughout the film, and each one conveys a different sort of love. In addition, it is set around Christmas, and follows everyone on their holiday love affairs, proving that love is, actually, all around us (wink).
A Charlie Brown Christmas
Charlie Brown's Christmas tree may look a little lean, but his little life is filled with love. Snoopy, Woodstock and the whole Peanuts crew gather to celebrate the holiday, and the film offers a charming soundtrack that it extremely catchy.
Rudolph the Red-Nosed Reindeer
Okay, so the other reindeer are pretty mean to poor Rudolph, and Santa isn't that friendly in the beginning, either — but this movie is one of the original classic children's holiday films of all time. Not only are the characters charming and unique, but their magical little world is captivating. What's more, it pushes a powerful message about the power of misfits, despite the adversity they may face.
The Santa Clause
Tim Allen may be most famous for his role on Home Improvement, but his role as Santa Claus is also pretty big. In The Santa Clause, Allen plays a father who accidentally finds himself inheriting jolly Kris Kringle's life. The movie follows his troubles acclimatizing to his new role, which comes with a bevy of laughs and holiday fun.
A Christmas Carol
Charles Dickens classic story has been recreated on the big screen a number of times — and for good reason. The story showcases the O.G. Grinch, Ebenezer Scrooge, who goes on a journey of self-exploration wherein he becomes a kinder man. Visited by the ghosts of Christmas past, present and yet-to-come, he discovers the err of his heartless ways and vows to live a new path.
— Elana Shepert, Vancouver is Awesome
By: Prince George Matters
GuidedBy is a community builder and part of the Glacier Media news network. This article originally appeared on a Glacier Media publication.