Back
'Chinese food' very broad, vague term: Top Chef judge
---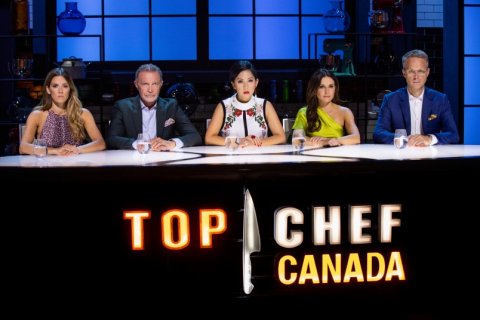 Top Chef Canada judge Mijune Pak is calling for more awareness of the diversity and regional variation in Chinese cuisine.
She raves about Richmond's food scene, calling it the best place for Asian cuisine outside of Asia. But she doesn't like how "Chinese food" is sometimes painted as a monolith, when it represents dishes from a country of more than one billion people.
"Chinese food is a very broad term. It's very vague," she told the Richmond News. "I really hope this gets more educated. China's huge."
Just like we know that Italian cuisine is distinct from French cuisine, Pak hopes Canadian diners will eventually be able to distinguish Sichuan food from Taiwanese fare.
Richmond's numerous Chinese restaurants serve many different types of regional fare. Lesley Chang with Tourism Richmond said the city's culinary landscape has been shaped by patterns of immigration over the decades.
"They're bringing their cuisines and tastes here too," Chang said. "I think that's really what makes Richmond Richmond."
You can get a better understanding of Chinese cuisine by looking at the six main culinary regions.
Southeast China
Hong Kong, Guangdong
Cantonese food from China's Guangdong province, which includes Hong Kong, is very popular internationally. It and tends to be sweet and light in flavour.
"Cantonese people eat out a lot. A lot a lot," Pak said. "That's how we socialize. Everything is around food. We're not going to go for walks. It's always over food."
Around Richmond, Pak recommends Cantonese cafes Happy Day Café and Lido. Silver Tower Café is another long-standing Richmond institution, Chang added.
Restaurants like these began cropping up in the 1950s in Hong Kong while it was still under colonial British rule. They feature Cantonese takes on traditionally European dishes.
One dish Chang recommends is the Cantonese mixed grill. It's a platter of grilled meats and fish, a side of vegetables, and a bechamel-based cream of mushroom or vegetable soup with rice or spaghetti.
Pak is fond of crispy pineapple sandwiches with pork chop and fried egg.
Taiwan
Taiwan, an island off the coast of China, is famous for its beef noodle soup, street food and bubble tea. Try Micha, Taiwan Taipei Original Pot or Newton Beef Noodle in Richmond.
Southwest China—including Sichuan
Sichuan cuisine is bold, spicy and slightly acidic. It includes lots of chili, garlic, ginger, peanuts and peppercorns.
At Richmond's Too Two Chinese Sauerkraut Fish on No. 3 Road, you can often see people lining up to eat their hot and sour fish soup served with pickled greens.
South Central China—including Hunan
Close to Sichuan province, this food is also known for its spice. Tian Shi Fu Restaurant or Bushair Restaurantin Richmond both offer Hunan cuisine.
Northern China—including Beijing, inner Mongolia and Hebei
A Beijing specialty is Peking duck. It's succulent and flavourful meat served with sauce and shoots wrapped up in a soft doughy tortilla.
Chang said you can try it in Richmond at Kirin Restaurant, Shanghai River or Man Ri Sung, a Korean restaurant with a Beijing-trained chef.
Northwest China
Xi'an
Xi'an province is closer to the middle of China, and meals from this region feature soupy noodles, breads and dumplings. You can try the hand-pulled noodles, lamb burger and spicy wontons at Xi'an Cuisine in the Richmond Public Market.
Xinjiang
Xinjiang province borders Tajikistan, Kyrgyzstan, Kazakhstan and Mongolia. Its cuisine features lots of lamb, with cumin as a main spice. Many Chinese Muslims live in this region, so dishes tend to be halal-friendly.
For Xinjiang food in Richmond, try the water-boiled lamb dumplings at Silkway Halalor the smoky lamb skewers Beijiang Restaurant.
East China – including Shanghai, Fujian and Shandong
Shanghai is China's largest city, and recognizable dishes from this region include xiaolongbao or soup dumplings, red-braised dishes and hairy crab.
Another signature dish is Beggar's Chicken. You can order it from Richmond's SuHang Restaurant, if you call in advance, Chang said. It's a whole chicken stuffed with sticky rice, lotus roots, quail eggs and vegetables. The bird is wrapped in lotus leaves and clay, and baked slowly using low heat.
Helping diners break into Chinese cuisine
There are hundreds of restaurants all over the Lower Mainland offering delicious dishes from regions all over China. But, Chang thinks, a language barrier might make non-Chinese diners feel intimidated or overwhelmed.
To that end, several organizations have initiatives to guide people by letting them know where to start—and what to order.
Tourism Richmond created its Dumpling Trail, which takes diners on a tasting journey all over Asia.
The annual Chinese Restaurant Awards, where winners are picked in more than 20 categories, let hungry Metro Vancouverites know the tried and true spots.
Last year, the Richmond News also started its Feast Asian Dining Festival. Participating eateries offer a fixed-price "feast" menu with items curated by restaurant operators.
As diners learn more about Metro Vancouver's Chinese food, Pak hopes they'll realize it's a country similar in size to the European continent, with as many types of cuisine. With all that choice, there's bound to be something you'll enjoy.
"I eat in Richmond all the time," Pak said. "I think that we're super lucky."
These are only a few examples of various dishes and where to find them. If you have other suggestions, let us know your favourite haunt in the comments below!
By: Richmond News
GuidedBy is a community builder and part of the Glacier Media news network. This article originally appeared on a Glacier Media publication.
Guided By
Topics