Back
Millennials may rescue slow recreational real estate sales
---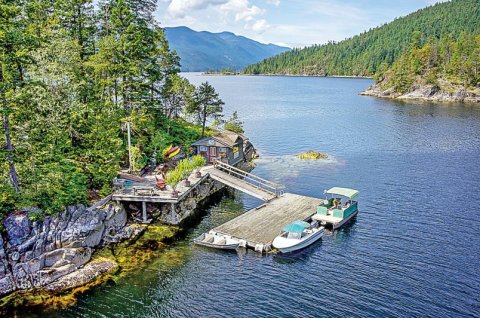 A " generational shift" in the recreational real estate market could help reverse a sharp decline in sales this year that has been especially brutal in pricey British Columbia.
In a June 6 report, Royal LePage noted that total sales of homes in B.C. recreational markets it surveyed fell by 22.5 per cent year-over-year, and declined on an annual basis in all of the markets.
The nine markets studied were North Okanagan, Central Okanagan, 100 Mile House, Comox Valley, Denman Island, Gulf Islands, Mount Washington, Whistler and the Sunshine Coast. While some point to B.C.'s speculation tax, which levies taxes on both B.C. and non-resident owners of vacation homes, most of the markets studied are not subject to the tax, which exempts the Sunshine Coast, Whistler and the Gulf Islands.
"While demand has softened across the recreational property market, low inventory has kept prices stable," said Gregg Hart, broker and owner of Royal LePage in the Comox Valley. "Mount Washington had a good snow year and sales on the mountain were well ahead of last year. The inventory on both Denman and Hornby Island is very low, which is pushing prices higher just as the selling season gets going."
Royal LePage said that the most popular region for buyers in British Columbia is the Central Okanagan region, where the median price for a single-family home fell 3 per cent to $640,000 compared with last year.
All of the recreational markets are expected to see prices hold steady or increase in 2020, with the exception of the Gulf Islands, predicted to decline 3 per cent.
But Re/Max, in a recent survey conducted by Leger, suggests that a new wave of younger consumers "will propel this segment of the property market."
The survey found that 56 per cent of millennials surveyed are in the market to purchase a recreational property. This is up 14 per cent from 2018, when just 42 per cent of millennials were considering buying a recreational home. Furthermore, last year 91 per cent of recreational markets surveyed reported that baby boomers, especially retirees, were driving the recreational market. "The increase in buying intentions among younger buyers marks the beginning of a new trend in who will propel this segment of the property market, and what they are looking to purchase," the report states.
"It's not surprising to see more millennials pushing into the recreational property markets. Recreational living is very much aligned with this generation's quest for work-life balance and is representative of a growing trend of millennials choosing to make recreational properties their primary residence," said Elton Ash, regional executive vice-president, Re/Max of Western Canada.
It appears to be a national trend.
"We are finally witnessing the anticipated generational shift of purchasing power from baby boomers to millennials," said Christopher Alexander, executive vice president, Re/Max of Ontario-Atlantic Canada.
Price remains the top consideration for recreational property buyers, with 61 per cent of survey respondents naming affordability as the most important factor. However, livability also plays a crucial role in the selection process.
"This new buyer demographic comes with a different lifestyle and property criteria than those of their boomer counterparts," Alexander added. "Factors like Internet connectivity, recreational activities and proximity to towns with urban conveniences are becoming a more important selling feature."
In British Columbia, and to a lesser extent in Alberta, the gap between prices and millennial expectations could keep some younger buyers sidelined if they plan to own a secondary vacation property.
In B.C. the annual speculation tax on secondary homes that are not rented for at least six months of the year is 0.5 per cent of the property's value for Canadian citizens and 2 per cent for foreign owners.
A waterfront cottage in the Central Okanagan, North Okanagan or the Sunshine Coast has a median price north of $1.2 million, while the Gulf Islands are in the $980,000 range, according to Royal LePage.
In Alberta, a waterfront cottage in Canmore has a median price tag of $2.7 million, and more remote destinations such as Pine Lake are around $550,000, which is higher than the median detached-house prices in Calgary or Edmonton.
Bryan Yu, deputy chief economist of Central 1 Credit Union in Vancouver, told Glacier Media that recreational property sales were seeing a knock-on effect from the slowdown in the Metro Vancouver housing market.
"Weak activity in Metro Vancouver is contributing to fewer recreational and retirement home purchases in other markets, as homeowners face lower price/equity and difficulty selling their properties. Sluggishness in Alberta's economy is likely curtailing recreational sales in the [B.C.] interior, with the speculation tax negatively impacting recreational purchases and pushing sales out of the larger market and into smaller rural communities," Yu said.
By: North Shore News
GuidedBy is a community builder and part of the Glacier Media news network. This article originally appeared on a Glacier Media publication.
Guided By
Topics