Back
Decorating a dorm room offers a lesson in creativity
---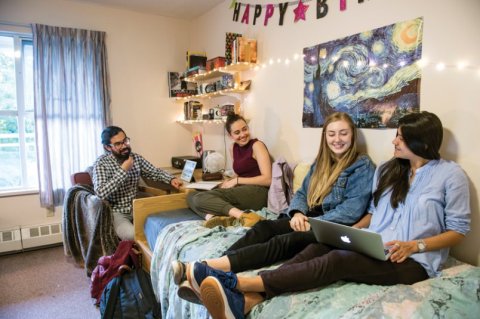 For those returning to school in September, the last week of August brings thoughts of books, class schedules and back-to-school wardrobes.
And for students planning a move into campus housing, that can also mean preparing to spend a semester away from home in a new space.
While dorms often feature smaller square footage than students are used to back at home, living in student housing is also a chance to assert their independence and showcase their personal decor style.
Gillian Segal, a Yaletown-based interior designer who has completed many residential and commercial projects on the North Shore, recalls her own experience going away to school at the University of Calgary.
"I'm thinking back to my dorm room, which honestly makes me think of a prison cell; it was super depressing," Segal says with a laugh.
"The key with a dorm room is that you want to be budget friendly because the room can get destroyed pretty quickly with lots of partying, so I think you'd want to get that cosy vibe and make it feel like a cool space but obviously within a budget," she continues.
While most items such as room organizers can be purchased at a low cost, Segal recommends splurging on bedding.
"It's a small luxury. If you're moving away from home it's nice to feel comfortable and cosy when you get into bed," the designer continues. (Not to mention the importance of sleep for students wanting to succeed in their academic and extracurricular endeavours).
To create that homey feeling, Segal recommends using feather pillows and adding a feather mattress on top of the provided one.
Cassidy Cooper, a third-year film student at Capilano University who was a resident advisor in CapU Residence, was known for having a beautifully decorated dorm during the 2017/2018 school year. She agrees that bedding, including pillows, are the place to invest. But to avoid disappointment upon arrival to your dorm, Cooper suggests checking the dimensions of the bed before purchasing new linens.
Because shared bathrooms are a reality for many student housing residents, Cooper also suggests coming equipped with a bathroom caddy.
"This is number one. A lot of students didn't bring this (last year) and it's kind of awkward because you basically just have a plastic bag with your hairbrush and your shampoo and conditioner. (With a caddy), it's easy. You can just pop it over the shower hook and have all of your stuff there really easily," she explains.
To decorate plain white walls while adding your own decor touches to a dorm, Segal recommends using removable wallpaper or wall decals. Displaying personal mementos and knickknacks can also make the dorm room feel like home, says Cooper.
"I love Polaroids because I'm in a film program so I had (photos) posted all around my room," Cooper says.
To create an ethereal ambiance, Cooper also hung strings of tiny white lights which had been gifted to her by her best friend.
When it comes to maximizing space in student housing, Cooper says it's important to think creatively.
"I actually brought one of my dressers from home which fit perfectly into my closet so I was able to stick it into my closet. I used (the closet) as hanger space but I could also put my jeans and my personal effects (in the drawers)," the student explains.
These types of organization tactics kept her room in order so that she could focus on studying and her role as a resident advisor.
"For me, when my room is messy, I'm concentrating on the fact that my room is messy," she says.
Before students begin planning their dorm room decor purchases, it's advisable to check their university's student housing web page to determine which personal and household items are permitted.
Often not allowed are candles, which Segal suggests replacing with an oil diffuser emitting calming aromatherapy oils. Not only do these create a beautiful fragrance, they can also help to keep stress in check during exam time.
By: Vancouver Courier
GuidedBy is a community builder and part of the Glacier Media news network. This article originally appeared on a Glacier Media publication.
Guided By
Location
Topics