Back
Is it a struggle to get in and out of your bathtub?
---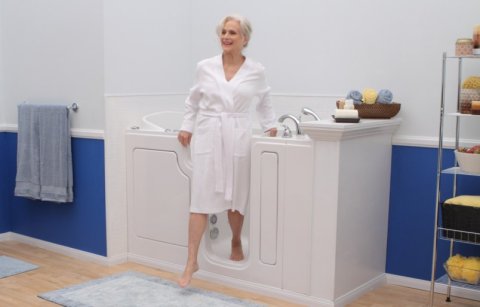 Sponsored Content
Have you ever wondered if a walk-in tub was right for you? Is it something that you need in your home? Would a walk-in tub offer the types of benefits that you need or want to plan for? Is it even something that you could afford to install into your bathroom? Is a walk-in tub an investment worth making?
Like so many seniors, these are all probably questions that you've asked yourself over and over again. Like most buyers, your primary concern likely comes down to cost and if it's something you can afford.
The cost of a Safe Step Walk-In Tub should always be looked at as a valuable investment; an investment into extended-term, independent living and improved physical and mental health.
Breaking Down the Cost
Determining the cost of a walk-in tub isn't a one-size-fits-all price.
When you contact Safe Step Tubs seeking information about a walk-in tub, you'll receive a free, no-obligation, in-home consultation with a safety consultant who understands every aspect of a bathtub installation process, including financing options and best product solutions for every customer. When they come to your home, he or she will measure the bathroom space and tub/shower dimensions as well as assess the electrical and plumbing specifications of your bathroom.
Once you decide the proper walk-in tub model to meet your physical needs, your consultant will show you what discounts, rebates or specials might be available for your project, and what financial options are available. At Safe Step Tubs, we accommodate nearly any income level. Installing a safe and comfortable walk-in tub can be a reality that you can afford.
Can the price of the tub be reduced?
When you're looking at the cost of a walk-in tub installation, don't get fixated on a single price tag. There are so many factors that can raise or lower the cost of installation, and you may discover that with the right discounts, savings and financing options, adapting your bathtub to make it accessible for your changing needs may be more affordable that you think.
At Canadian Safe Step Tubs our specialty walk-in tubs, showers and hybrid systems have been providing individuals with independence, physical relief, self-confidence and a new lease on life for years. Contact us today to schedule a free, no-obligation in-home consultation. Learn more at www.SafeSteptubs.ca
By: Times Colonist
GuidedBy is a community builder and part of the Glacier Media news network. This article originally appeared on a Glacier Media publication.
Guided By
Location
Topics