Back
Learn how non-invasive, investment-protecting cabinet treatment was invented
---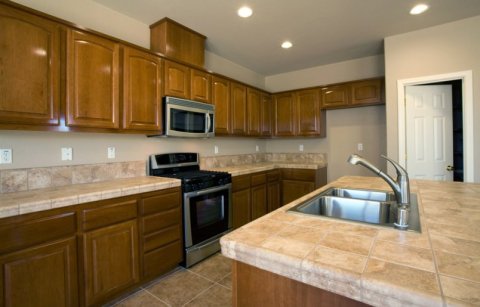 Sponsored Content
Tracy Booth and his team have been refinishing cabinets for over 30 years.
"My kitchen cabinets were the guinea pigs," admits Tracy Booth of the invention process for his secret "Gleam Guard" cabinet refinishing method. "Over thirty years ago, my cabinets needed something, and I worked on them in my kitchen until I came up with the foolproof process I still use today."
At the time, Booth owned a home maintenance company. He continually was flooded with clients who wanted a solution for cabinets in disrepair.
Many techniques to refinish cabinets took lots of time, money, vigorous sanding and harsh toxic chemicals. Booth's technique restores thecabinets to their former glory - all without the customer ever having to empty them out. Cabinets can be used within 6 hours.
"Cabinets get greasy, they get worn, and they get sticky, they start peeling," Booth says. "With our process, we can restore them to get them new-looking again, without the mess."
If around this point, you're feeling skeptical, Booth says he is used to it. He acknowledges that "many people thought I was flaky, thought it was a gimmick. So I had to stay the course." Today Gleam Guard has an A+ rating with BBB.
He says that after a while, the results spoke for themselves, and his business began to grow. Booth is so confident in his product that he put a five-year free touch up guarantee on all of his work.
"It's like your changing your car oil to protect your car engine. We refinish or refurbish kitchen cabinets so you don't have to replace them. I have people who have had our work done on their cabinets 10, 15, 20, 25 years ago, and it still looks great."
"Customers often ask, 'what should we do to prepare?' We say, open the door, and let us into your kitchen," says Booth.
"You get such a good refresh on the place. Our special finish is actually designed to walk on," Booth says, explaining that this is why his treatments last so long - they're stronger than regular cabinet finishing products and stains.
Booth says the entire cabinet process takes one to two days, and stresses that his clients do not have to unload their kitchen cabinets for his team to do their work.
"You've got to think of your cabinets as being an investment," says Booth. "Most cabinets are somewhere in the range of 15 to 30 thousand dollars. For about a tenth of that, we'll keep them tip top for decades."
If you would like to protect your cabinets or learn more about Gleam Guard check their website or call/text Booth at 604-218-7470.
By: Tri-City News
GuidedBy is a community builder and part of the Glacier Media news network. This article originally appeared on a Glacier Media publication.
Guided By
Topics