Back
B.C. craft brewers bringing obscure beer styles back from the dead
---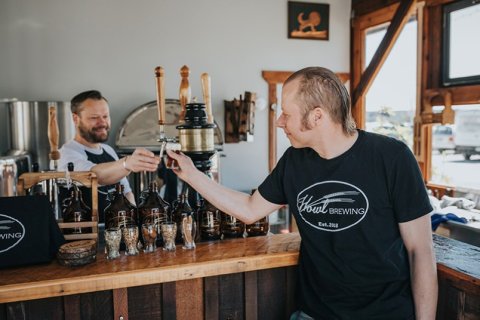 Before the almighty industrial lager managed to supplant nearly every beer style on earth, people brewed with whatever local ingredients they could get their hands on. That meant beer styles varied greatly from region to region, and even town to town. While many of these styles and recipes have been lost to the winds of time, some B.C. craft brewers are digging into the history books to resurrect ancient beers, discovering new flavours, ingredients and methods by looking to the past.
Brewer Dan Van Netten of Howl Brewing brews a different obscure historical beer every month at his nanobrewery in North Saanich. For Van Netten, researching and recreating lost beers is a way to get in touch with the past. By drinking what someone from 15th century Germany or 17th century England might have drank, for a brief moment you can put yourself in their shoes and experience what they experienced. It's a direct connection to the past.
"It's satisfying to bring something back from the dead," he says. "These beers tell a story, and by bringing them back to life, we can keep that conversation going."
The history of beer in many ways mirrors the history of human civilization, he says, and rediscovering lost beer styles can tell us how people lived long ago. Beer is a big part of who we are as a civilization.
"You can look at history and see how different events and social changes affected the beer people drank," he explains. "Things like rationing, taxation, religious influences — they all had an impact."
According to recent studies, beer production might have even been an important factor in humanity's transition from nomadic hunter-gatherers to a domesticated agricultural society.
Van Netten does most of his research online and in esoteric historic books, some of which he gets translated. But finding a description of a beer is just the first step.
"Sometimes you kind of have to fill in the blanks," he says. "So we'll look at what ingredients they might have had available at the time."
Van Netten recently brewed a Brunswick Mum, which is a 16th century spiced brown ale from England that has its roots in a pre-Reinheitsgebot 15th century German beer called "mumme." After the Bavarian Purity Law came into effect, the style carried on in England and Ireland, but with some significant changes.
"The English went crazy with the ingredient list trying to recreate it," Van Netten says.
In addition to herbs like blessed thistle, gale, marjoram, fir branch and chrysanthemum, a considerable portion of the grain bill is made up of beans.
"Beans were frequently used by the English as a body builder for dark beers," he says. "The mash was pretty gummy. But experimentation is a big part of it. We often don't know what it's going to taste like until it's done."
Next up for Van Netten: a Westcounty White — an extinct English style that's made with egg.
Brewer Dave Paul of LoveShack Libations in Qualicum Beach has been working with Vancouver Island University anthropological archeologist professor Marie Hopwood to create beer recipes from prehistory, including chicha, a traditional Peruvian drink made from fermented purple corn that has been chewed up and spat out first.
"Yeah, we didn't chew the corn," says Paul. "An enzyme in saliva helps break down the corn so it can be fermented, but we just soaked it in some pineapple instead."
Paul and Hopwood have collaborated on three beers now, including a Viking grog called Odin's Eye and saffron-spiced beer called Midas Touch made with ancient grains.
Inspired by the work of biomolecular archeologist Patrick McGovern and his book Ancient Brews: Rediscovered and Re-created, the pair started with McGovern's work, and combined that with Hopwood's own original research and Paul's brewing know-how to come up with the recipes.
"I love brewing one-off beers and learning new techniques," he says. "I love the experimentation of it — you have no idea how it's going to go."
Hopwood teaches a course on the anthropology of food and drink at VIU, and the prehistoric beers are a valuable teaching aid for her students.
"I want to do something that helps my students imagine how people lived in these times," she says. "A lot of students don't know anything about Mesopotamia or ancient Peru, so this is a way to bring this region and this time to life."
Midas Touch was based on an ancient Egyptian beverage, and was brewed with saffron, coriander, honey, spelt and an ancient grain called kamut. The result was floral and spicy, and like nothing they had ever tasted.
"That would have been the taste of extreme wealth in that time," says Hopwood.
Archeological records show beers like Midas Touch existed for 7,000 years before the advent of writing, which means there's no recipes lying around. So some artistic license is taken with the beers.
While Odin's Eye clocked in at 7.4 per cent, in ancient times, beer and beer-like beverages likely only had an alcoholic content of around 2 to 3 per cent ABV. That would have been enough to kill off any microbes, as beer was primarily used as a reliable water source.
"We're not going for historical accuracy," says Paul. "These are historically inspired ales. They still have to be drinkable and sellable."
"In anthropology, we argue that authenticity doesn't really exist, anyways," Hopwood adds. "We want to start a conversation. We want to bring the past to life."
Click here for original story.
By: North Shore News
GuidedBy is a community builder and part of the Glacier Media news network. This article originally appeared on a Glacier Media publication.
Guided By
Location