Back
Beer today, gone tomorrow: Remembering B.C.'s defunct craft breweries
---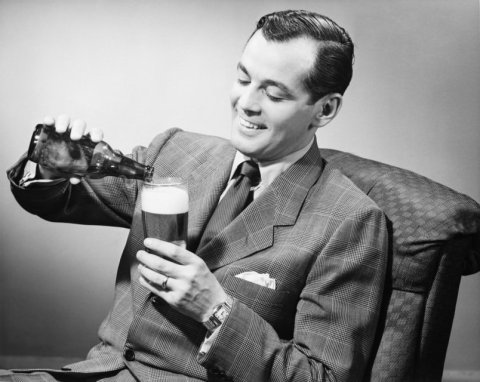 B.C. has seen a delicious explosion of craft beer in recent years, but not every brewery is destined for success. Poor business decisions, hideous branding, changing markets and — most of all — lousy beer can all spell doom for a fledgling brewery. Some breweries run their course, others get sold and rebranded, while some were so far ahead of the curve the beer drinking public just wasn't ready for them.
Here, then, is a look at some of the breweries that are no longer with us — though many of the people involved are still very much active in the B.C. craft beer scene.
Avalon/Taylor's Crossing (North Vancouver)
Originally opened by the Mark James Group in 2004 as Avalon Brewing, then rebranded as Taylor's Crossing Brew Pub shortly thereafter, for a long time it was the only craft brewery on the North Shore. Some talented brewers passed through Taylor's Crossing, including Iain Hill (Strange Fellows), Dave Varga (33 Acres), Dominic Giraldes (Postmark) and Hamish McRae (Parkside Brewery). The brewery was also the original home of Red Truck Beer, which was produced there from 2005. While the brewpub closed in 2011, Red Truck continued to be brewed there until 2015, when its current purpose-built brewery in Vancouver was opened. Today, the space is home to Hearthstone Brewery, part of the Springs Group (owners of Mission Spring Brewing Co.)
Bastion City Brewing (Nanaimo)
Briefly operated in downtown Nanaimo at 50 Commercial St. from 1995 to 1997. The original building was demolished to make way for the Port of Nanaimo Centre.
Big River Brewpub/BRB Brewing (Richmond)
Opened in 1997 as Big River Brewpub, this brewery was attached to a bowling alley at the then new Riverport development. Rebranded as BRB (Be Right Back) Brewery + Eatery in 2015, it closed just a year later. Fuggles & Warlock was originally brewed at BRB before it opened its own brewery. Today the space is occupied by Monkey 9 Brewing.
Broke 'N Rode Brewing (100 Mile House)
Opened in early 2016 and shut later that year, this short-lived brewery served, by all credible accounts, some of the most questionable beer in the province. Thankfully, things have improved in its current incarnation as Jackson's Social Club and Brew House.
Dix BBQ & Brewery (Vancouver)
Another early Mark James Group brewery, Dix opened in Yaletown in 1998 and was an incubator for much of the young brewing talent in Vancouver, with alumni like Tony Dewald (Trading Post), Derrick Franche (High Mountain BrewHouse), as well as Iain Hill and Dave Varga. Sadly, Dix closed in 2010 shortly after the Winter Olympics when the building's landlord decided to jack the rent, and the brewing equipment went to Brassneck Brewing. In 2015, Central City opened its Red Racer Taphouse in the former Dix space, and even has some of the original branding and signage on display.
Mozart Brewing Company (Kimberley)
Kimberley's second stab at a craft brewery (the first being the Kimberley Brewing Co., which operated from 1997-98), Mozart was located on the Platz, the German-themed pedestrian town centre, in a Bavarian-style building but curiously served mainly English ales. Closed in 2016.
Horseshoe Bay Brewery (West Vancouver)
Horseshoe Bay Brewery was the first microbrewery in Canada when it was opened in 1982 by John Mitchell and Frank Appleton to produce beer for the nearby Troller Pub and became Ground Zero for the craft beer revolution. Mitchell and Appleton soon moved on to Spinnakers, and Horseshoe Bay briefly closed in 1985 before reopening and produced beer well into the 1990s, before closing for good in 1999. The original brewhouse, made from converted dairy equipment, is still in use today at Crannog Ales in Sorrento.
Hugo's Grill and Brewhouse (Victoria)
This divey brewpub located in the Magnolia Hotel served Victoria for close to a decade before it closed in 2008 to make way for the hotel's new spa. Brewer Ben Schottle has been at Phillips Brewing ever since.
Plan B Brewery (Smithers)
Opening in 2008, Plan B had no problem selling its beer — it just couldn't make enough of it on its tiny 400 L system to be profitable. Alas, just a month after being named the best nanobrewery by Northwest Brewing News, the brewery closed up shop in 2013.
Sailor Hagar's Brew Pub (North Vancouver)
Metro Vancouver's first brewpub started brewing its own beer in 1994 with Gary Lohin (Central City) as brewmaster. The in-house brewery shut in 2003, and today the pub offers six contract-brewed beers under its own brand, alongside 12 taps of craft beer.
Savoy Brewery (Nelson)
This tiny brewpub opened in 2016 in the newly renovated Savoy Hotel on Nelson's lively Baker Street, but closed earlier this year with owner Jimmy Bundschuh citing the competitive local market as the reason.
Shaftebury Brewing (Vancouver)
Founded in 1987 in Vancouver with the great John Mitchell as its first brewer, Shaftebury originally focused on draught ales, and helped to popularize the Vancouver-specific dark cream ale style. By 1995 and with none other than the ubiquitous Iain Hill as brewmaster, the brewery's growing popularity soon prompted a move out to Delta where it had the space to run a bottling and canning line. The brand was bought in 1999 by Sleeman Breweries, and production moved to the Okanagan Spring brewery in Vernon. In 2014, Shaftebury was sold to Fireweed Brewing (Tree Brewing) in Kelowna. The brand is still technically alive today, but it's very much on life support compared to its heyday in the '90s, and is currently brewed out of Big Rock's Vancouver brewery.
Steel Toad Brewing (Vancouver)
Despite being housed in the beautifully restored Opsal Steel building in the heart of Olympic Village, Steel Toad never connected with locals since it opened in 2014. Mediocre beer, questionable branding, inconsistent food and apathetic service didn't help. BREWHALL, owned by the Tap & Barrel group, took over the space in 2018 and have managed to do everything right so far, creating one of the most fun places to experience craft beer in the city.
Surgenor Brewing (Comox)
The Comox Valley's first craft brewery opened in 2008 and focused on making local versions of mass-market macro lagers and ales. The beer wasn't terrible, but it wasn't remarkable either, and the brewery closed in 2011.
Surlie Brewing (Abbotsford)
Opened in 2014 by former Dead Frog and Mission Springs brewer Timmy Brown, Surlie went out of business by 2015, no doubt in part to the fact the City of Abbotsford didn't allow craft breweries to have tasting rooms or retail space at the time. The Solitaire Belgian Dark Ale will be missed.
Tall Ship Ale Co. (Squamish)
Way ahead of its time and gone far too soon. Tall Ship was founded in 1993 by brewer "Wild" Bill Herdman and was responsible for the first commercial IPA brewed in B.C., as well as the first barley wine. Even Michael Jackson, the Beer Hunter himself, lauded Tall Ship's bottle conditioned beers. Sadly, the brewery closed in 1998 after struggling with distribution.
Sources: Craft Beer Revolution, by Joe Wiebe; Brewed in Canada: The Untold Story of Canada's 350-Year-Old Brewing Industry by Allen Winn Sneath; Great Canadian Beer Guide by Stephen Beaumont; B.C. Beer Guide, BCBeer.ca.
Click here for original story.
By: Vancouver Courier
GuidedBy is a community builder and part of the Glacier Media news network. This article originally appeared on a Glacier Media publication.
Guided By
Location