Back
Blog: Mango coconut mousse
---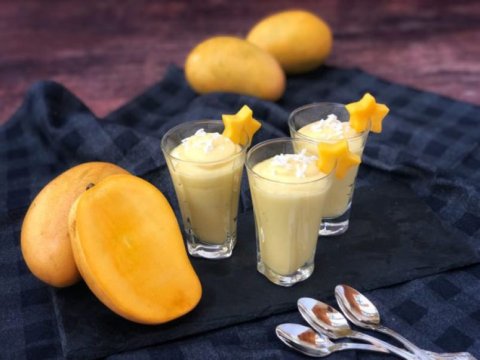 Looking for a dessert that is lactose-free and gluten-free? Try this delicious mango coconut mousse!
This is a really easy dessert to make that is perfectly presentable on its own, or it can be used as a filling in other recipes, like a gluten-free and lactose-free Pavlova. You just need to keep one thing in mind: use only the solid coconut cream or fat component of the coconut milk for this recipe. Place the entire unopened can of coconut milk in the fridge for a few hours to help the coconut cream solidify. This will make it easy to separate the coconut cream you need, from the liquid that you can use for some other recipe. In terms of managing time, place the can of coconut cream in the refrigerator just before you start making the mango curd. That way, while your mango curd is setting in the refrigerator, so will the coconut cream!
Ready?
MANGO COCONUT MOUSSE
Ingredients:
1 ½ cup mango chunks
7 tbsp sugar, divided (4 tbsp + 3 tbsp)
4 egg yolks
2 tbsp lime juice
1 can coconut milk (14 oz), while can chilled in refrigerator
¼ cup butter
¼ tsp salt, divided
For garnish (optional):
1 tbsp shredded coconut
Method:
Place the whole can of coconut in the refrigerator for at least an hour. This will help the coconut cream solidify, making it easy to separate from the liquid.
Purée together the mango chunks, lime juice, 4 tbsp sugar and 1/8 tsp salt until smooth, about 2 minutes depending on blender. Strain into a medium heatproof bowl. Should yield about 1 cup.
Add egg yolks to the mango puree. Place the bowl over a saucepan of simmering water and whisk constantly until the mixture thickens, about 5 minutes. The mixture may look thick already when you start, but it will thicken a little more as it cooks. Make sure to wipe the bottom of the bowl regularly to ensure no water from the steam accumulates on the bowl's outer bottom surface.
Once thickened, turn off the heat and place the bowl on a tea towel on the counter. Add the butter chunks one at a time and whisk until melted and incorporated into the mango curd.
Strain into a clean bowl. Should yield about 1 ½ cups. Cover surface of mango curd with plastic wrap and refrigerate overnight or for at least 4 hours.
After the mango curd has chilled for the required time, remove the chilled can of coconut milk from the refrigerator and open it. Gently separate the solid coconut cream from the liquid. You should get about ¾ cup of solid coconut cream. Discard the liquid or reserve it for any other recipe.
Using a hand mixer, whisk the coconut cream until smooth on medium speed (about 1 minute). Add 3 tbsp sugar and 1/8 tsp salt and whisk on high speed until fluffy (about another 3 minutes)
Fold in 1/3 of the chilled mango curd until well incorporated. Repeat with the remaining mango curd until fully combined and smooth.
Pour into 8 serving bowls or small glasses. Chill for at least 4 hours. Keep refrigerated until ready to serve, up to 3 days. Garnish with shredded coconut if desired, before serving.
Enjoy!
Makes 8 servings (Yields about 2 ¼ cups)
By: Delta Optimist
GuidedBy is a community builder and part of the Glacier Media news network. This article originally appeared on a Glacier Media publication.
Guided By
Location
Topics