Back
Dine the Line: These SkyTrain maps take you on food crawls across Metro Vancouver
---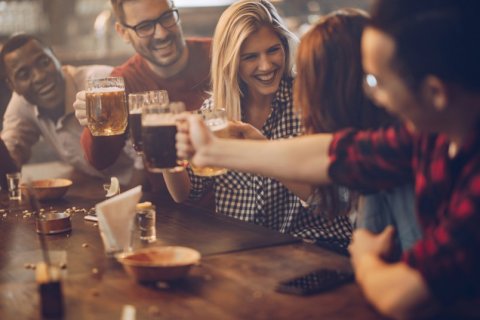 Feeling like taking on a couple of epic food crawls across Metro Vancouver? These new maps, created in partnership between TransLink and WestCoastFood, can be your guide to using SkyTrain lines to get to dining and brewpub destinations.
Called Dine the Line, the new offering features a guide each for the Expo Line, Millennium Line, and the Canada Line (plus the SeaBus).
Aimed at locals and visitors alike, the guides easily link food fans to the best of the region, and make getting there a breeze: Just add a Compass card to the recipe.
Hop on the Millennium Line and explore breweries and eats in Vancouver, Burnaby, and Coquitlam. Use the Expo Line to go on a global eating spree, starring everything from Italian at CinCin in Vancouver to Indian at Mahaveer Chef's Choice in Surrey – with stops for Mexican at El Santo in New West and Korean at Hanwoori in Burnaby – to name a few.
Lastly, the Canada Line and SeaBus will take you from dim sum to dinner, kicking off at the award-winning Chef Tony in Richmond to the comfort eats classic Burgoo in North Vancouver.
Each map is viewable online or can be downloaded. You'll find each one here:
"We want people to get out there and experience Metro Vancouver's unique dining and brewpub neighbourhoods and we want people to use transit to get there," says TransLink CEO Kevin Desmond in a release.
"Transit connects our communities in so many ways and we want transit to be the way that residents and tourists discover culinary hubs throughout our great city."
The CEO of Tourism Vancouver, Ty Speer, adds: "Embarking on a Dine the Line tour is like having a local guide who knows the best spots to eat in the city, and best of all, they're accessible by transit."
By: Vancouver Courier
GuidedBy is a community builder and part of the Glacier Media news network. This article originally appeared on a Glacier Media publication.
Guided By
Location
Topics